---
100% Made by Valerie, in Toronto. Perfect little baby quilts for that little bundle of joy, poop and giggles. There are a few more to choose from, here.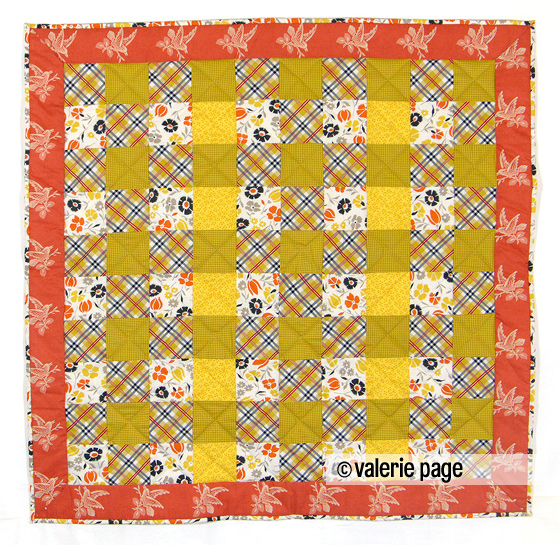 French Baby Quilt
---
No.0089
Details: Measures 41" x 41" / Toronto 2012 / Cotton. Colour combination - French yellow and salmon fabrics from Paris, plaid and floral prints.

Price: $180
Q. Looking for a Custom Baby Quilt as a Gift?
- We Make Them.
---
Looking for personalized gift for a new baby that really stands out?
How about a one of a kind, bespoke baby quilt for under $200? Contact Valerie today to get your baby quilt gift started. Valerie will discuss colour choices with you, then sew the baby quilt and embroider the child's first name in one corner. Lead time is about four days, but if you're in a hurry we might be able to help out.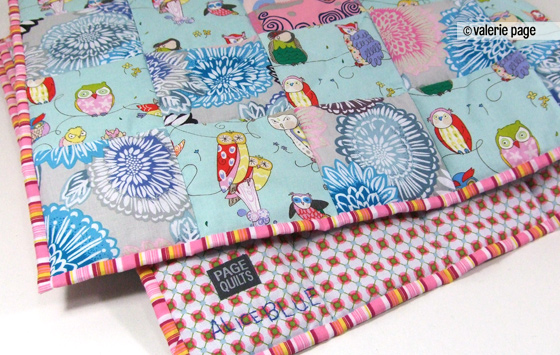 Feel The Warmth Under a Tea Cosy
---
Freshly quilted, English-style Tea Cosies that ensure your best tea remains hot. PageQuilts Tea Cosies are $55 each.

All cosies are hand made in the Leslieville area of Toronto, not too far from Lady Marmalade. Cotton fabrics, synthetic & mylar layers of insulation, various sizes to accommodate little betty's to big brown tea pots. Machine washable.
1) Pick your tea cosy colour of choice - here.
2) Contact Valerie to purchase it.
3) Learn how PageQuilts Tea Cosies are tested to keep your tea hot.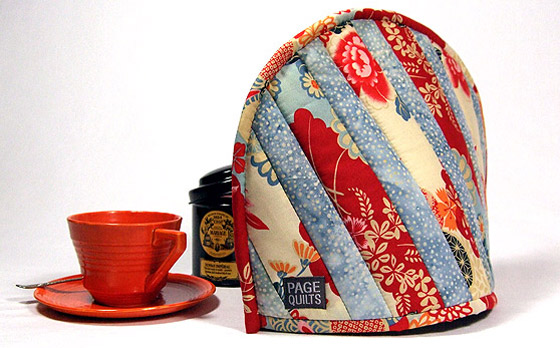 This quilt is made entirely with Certified Organic Cotton fabric.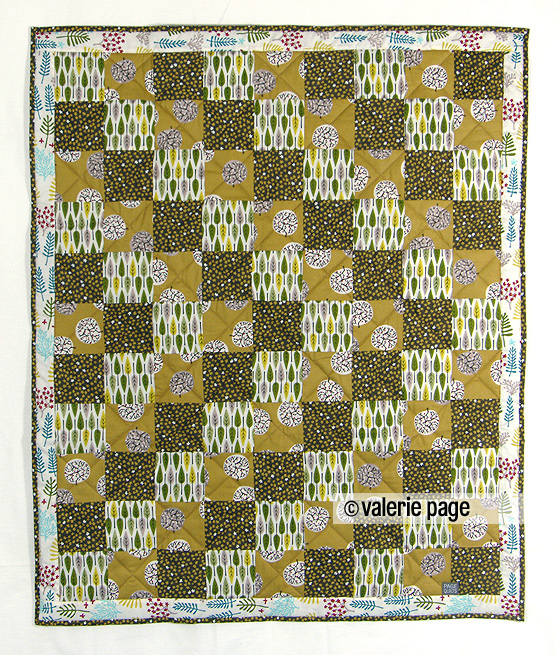 Organic Cotton Baby Quilt in Browns
---
No.0255
Details: Measures 35" x 42" / Toronto 2012 / Certified Organic Cotton. Colour combination - pale green and blue, bird and abstract prints.

Price: $150