Christmas Stockings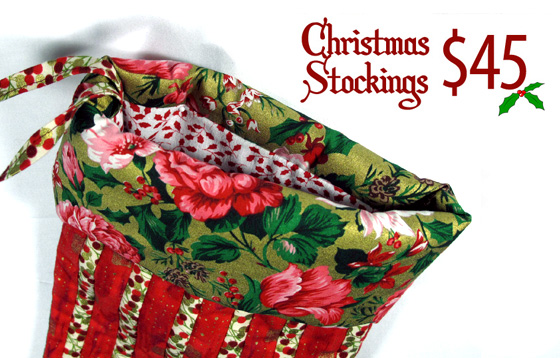 Carry on the Christmas tradition with your family by choosing a Christmas Stocking that can last a life time. A sturdy loop big enough to fit over a doorknob or bed post makes hanging our stockings on the Night Before Christmas, a breeze.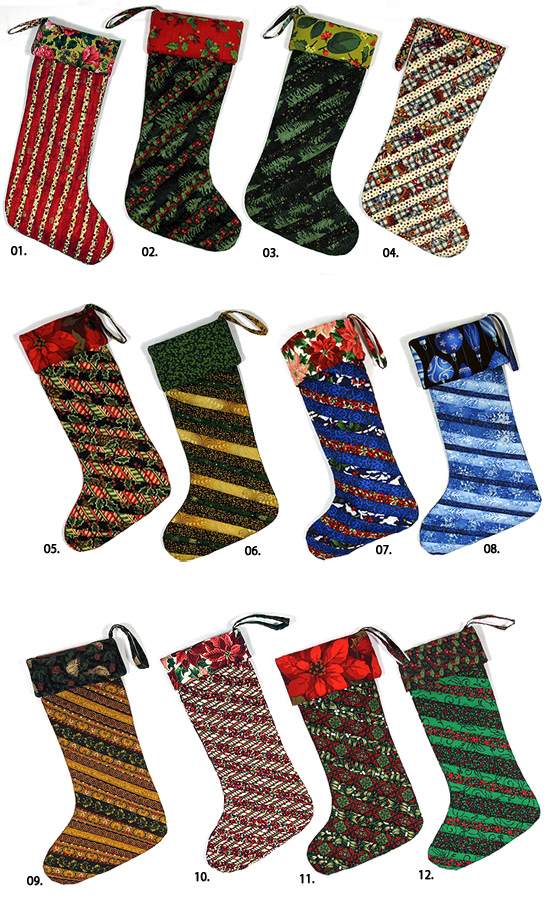 Available Christmas stocking colours aredisplayed above. Priced at $45/ea. Order here by quoting the number next to the stocking of your choice. Hand made in Toronto by Valerie.
---
---
Final DAY - One Of A Kind Christmas Show


Don't Delay, One of a Kind 2013 Ends in One Day!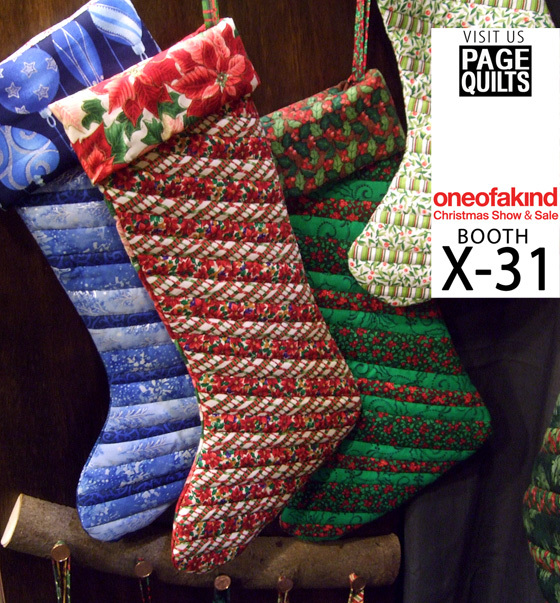 Christmas Stockings! Hanukkah Stockings - hey, why not?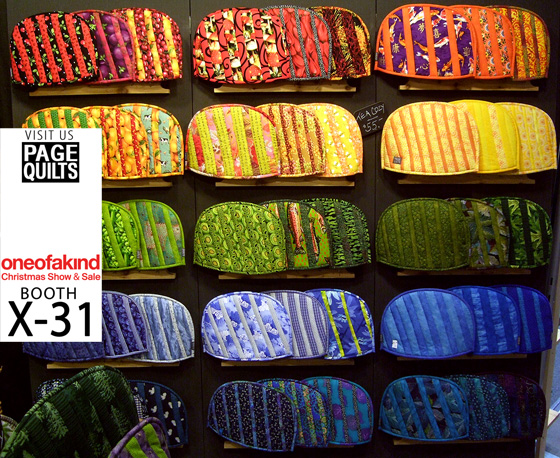 Bundle up it's cold out there... l Tea Cosies keep the heat in. Booth X-31 - PageQuilts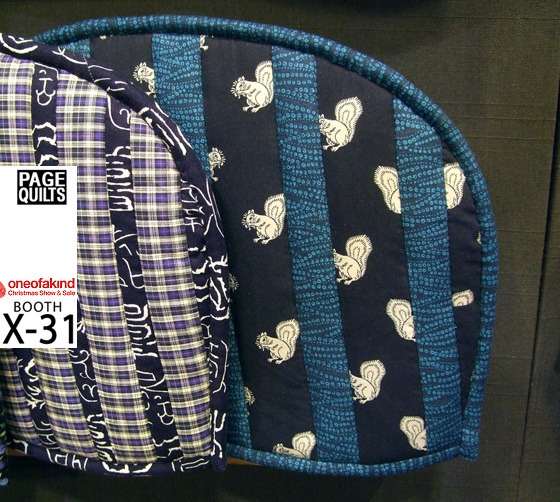 How can you say No to a White Squirrel Tea Cosy? Snap it up at booth X-31 during the final day of One of a Kind Show and Sale Toronto, this weekend.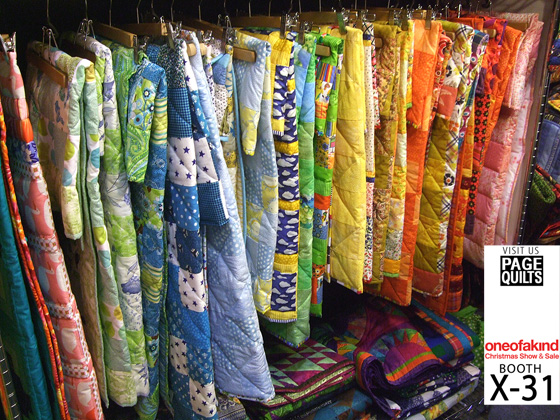 Baby Quilts in every colour of the rainbow, for that special little bundle of joy. Snap one up at booth X-31 during the final day of One of a Kind Show and Sale Toronto !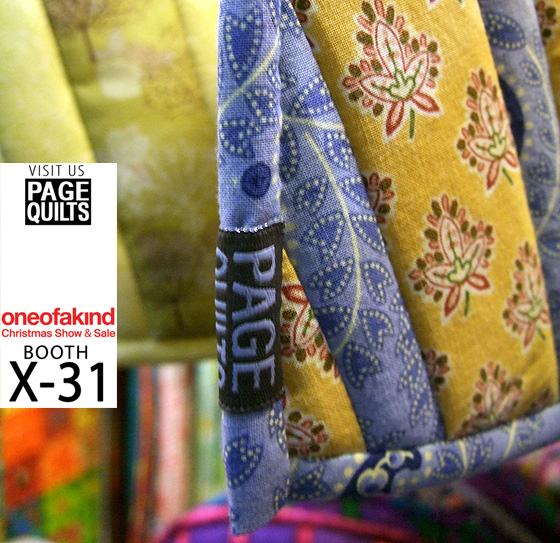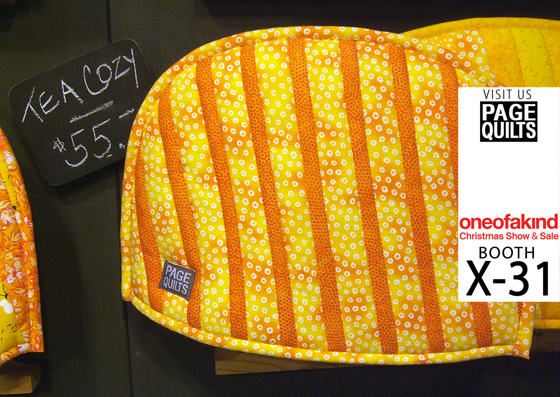 Brighten up your kitchen with a friendly little yellow tea cosy from PageQuilts. Triple insulated, will keep a fresh pot of tea hot for up to 3 hours.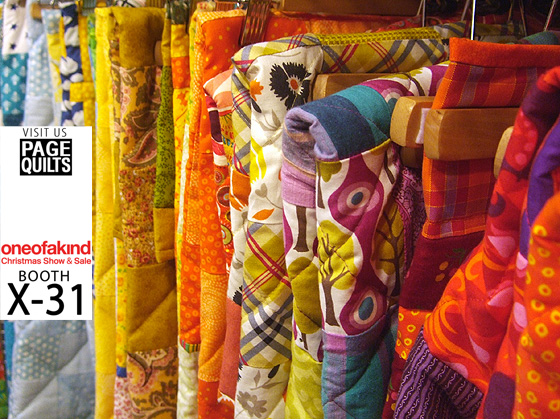 Baby Quilts of every colour to suit any child's room.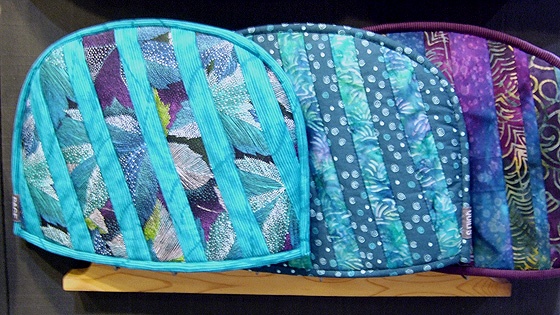 One Of A Kind Christmas Show - 2013
Thurs, November 28 to December 8th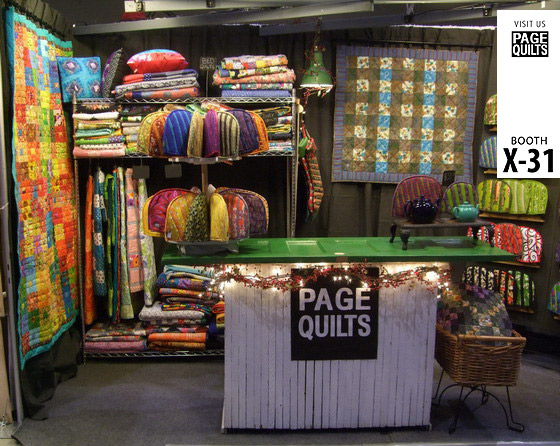 Dates + Times
Thur Nov. 28 - Dec. 8, 2012
Show Location:
Direct Energy Centre, Exhibition Place
100 Princes' Blvd, Toronto Ontario Canada

Weekdays 10am - 9pm
Saturdays 10am - 9pm
Sundays 10am - 6pm
OPEN LATE
Thurs Dec. 5th till 11pm
Booth #X-31
PageQuilts on Facebook
More Info: www.oneofakindshow.com
OoAK on FaceBook
Look for Valerie in booth X-31 at the One of a Kind Christmas Show and Sale in Toronto - November 28th to December 5th, 2013.
Taking place at the Direct Energy Center in Exhibition Place, Toronto, the One of a Kind Spring show features hundreds of talented artisans from across Canada and abroad under one roof. PageQuilts is at Booth #X-31 for the full ten days of this creative winter wonderland.
This holiday season you'll find fresh Christmas stockings , baby quilts hot off the sewing machine, certified organic cotton baby quilts, a bundle of colour quilted tea cosies to keep the heat in + wonderful wall hanging quilts of all sizes - the perfect gift to keep warm under and brighten up a room.
Be sure to stop by, feel the fabrics and marvel for a moment or two at hand made goods from Canada.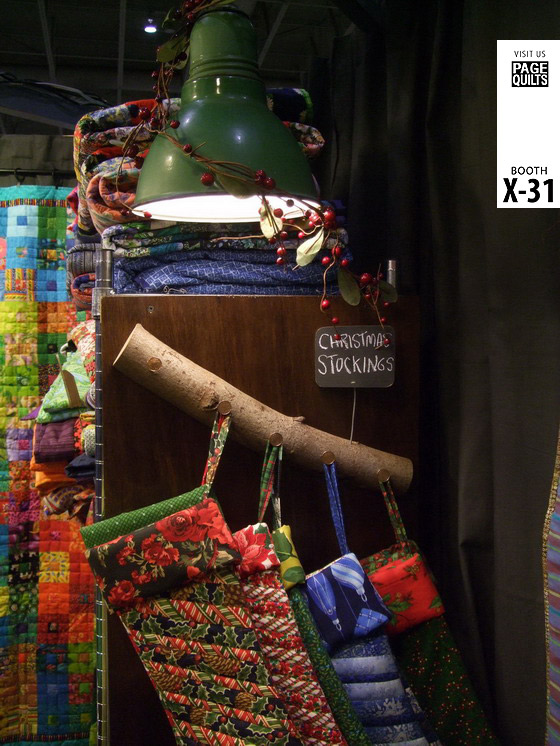 NEW! Christmas Stockings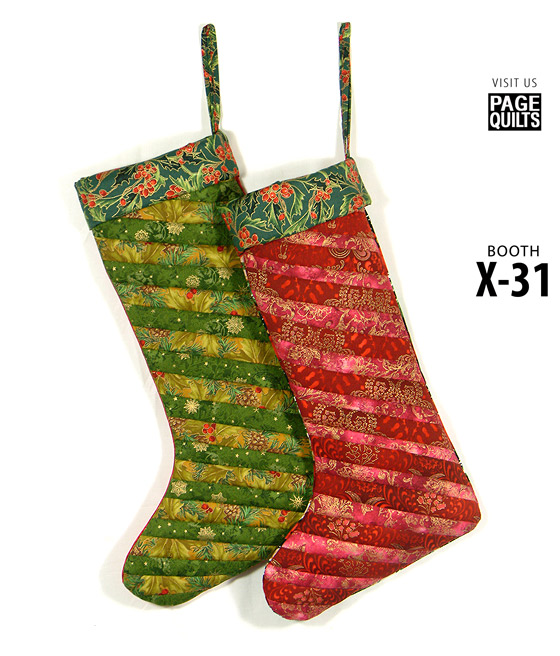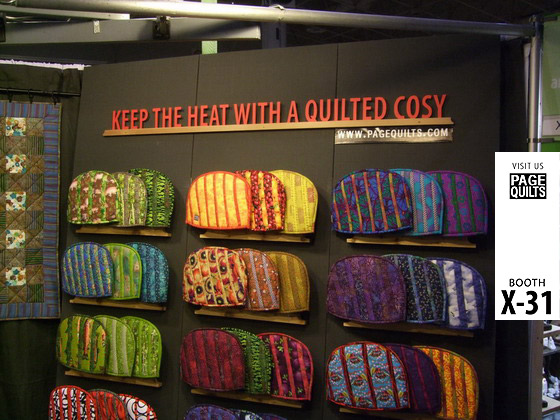 Quilted Tea Cosies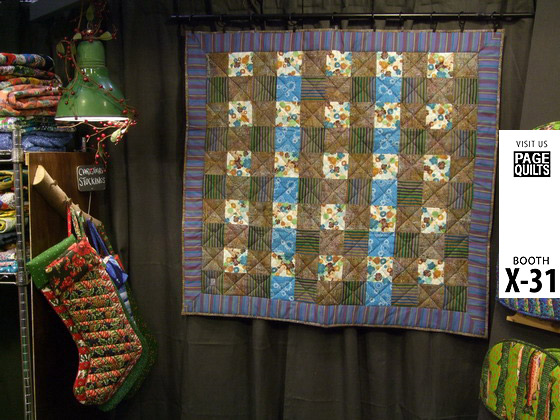 Baby Quilts and Wall Hangings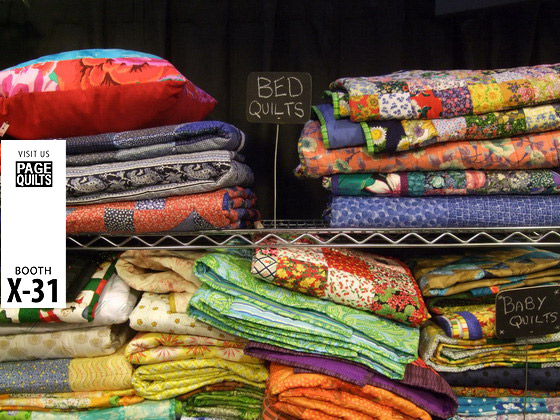 Hand Made Quilts for the bed.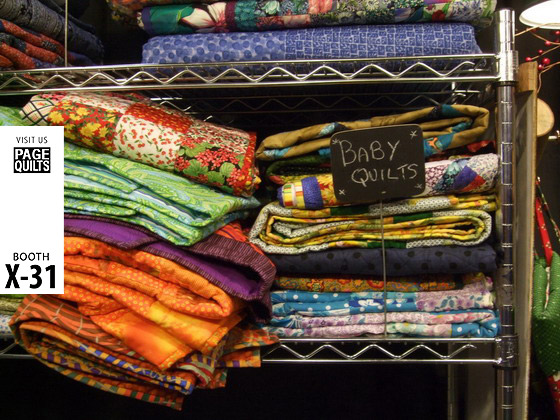 Baby Quilts made by hand are the perfect gift for that new niece or nephew.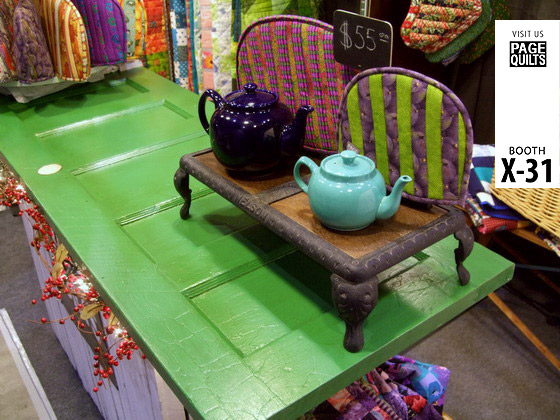 Our Quilted Tea Cosies fit a range of pot sizes and are made with two layers of insulation, they will keep a pot of tea hot for up to three hours, according to our tests.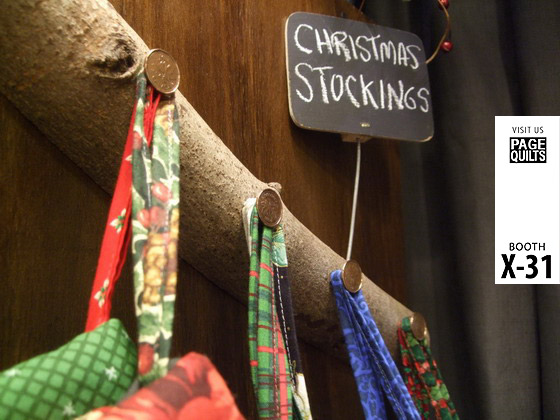 Christmas stockings are hard to find these days, we have a limited number in stock at the One Of A Kind Christmas Show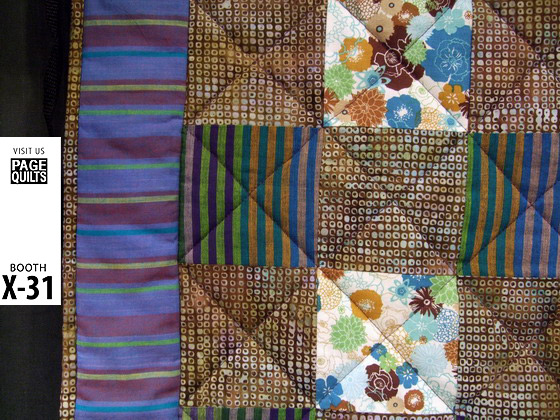 Up close look at a gorgeous baby quilt (if we do say so ourselves).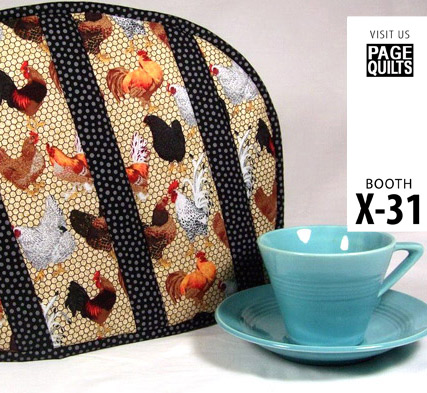 Valerie's tea cosies were something of a necessary invention. She found her pots of tea getting too cold while she sewed, so she made herself a Cosy out of scraps of fabric from a quilt project, Thinsulate insulation and lined the interior so it would stand the test of time. The basted edges are all hand finished - no one else makes tea cosies like this, but that's the reason why her's work so well.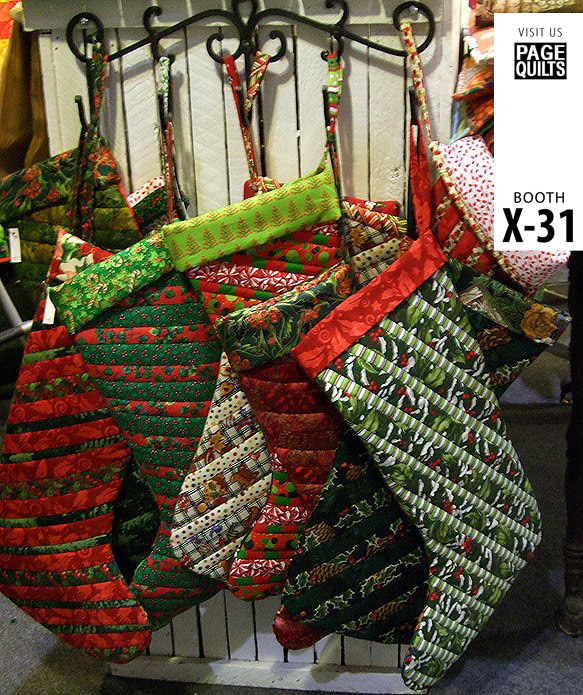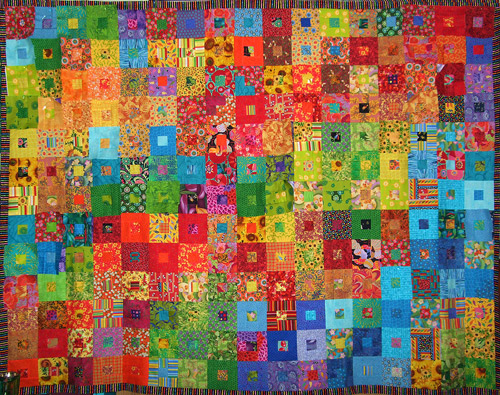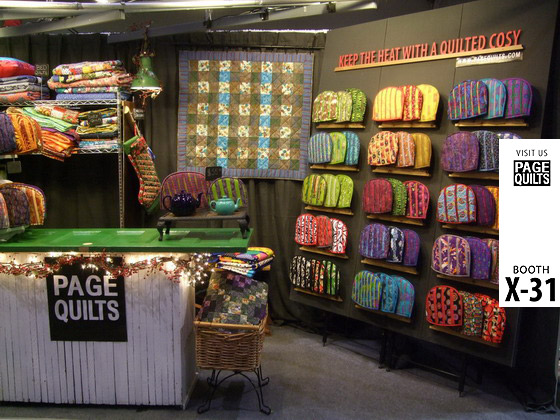 Keep the Heat With a Quilted Tea Cosy
Valerie Page has been designing and making quilts since 1972. A couple years back she branched out from the quilts she loves and made herself a tea cosy. Today her Tea Cosies are wonderfully wrapped in colourful fabrics, inside and out. Each cosy takes 12 separate steps to hand make, inside, two layers of high efficiency insulation work in tandem to keep tea steaming hot for up to 3hrs. Valerie's tea cosies mark her signature use of colour and they work, very well. These are functional kitchen accessories, made in Canada.
Valerie still makes Quilts of all sizes - little ones for that new niece or nephew, painting like wall hangings to brighten a room, and sometimes the occasional bed quilt too. Feel The Warmth Under A Quilt, it's more than just a slogan.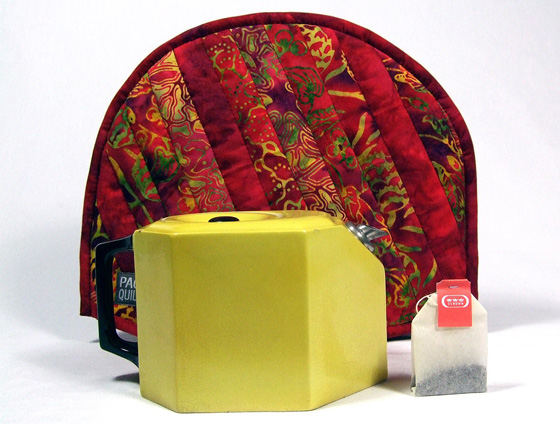 ---
---
Yes, we have Baby Quilts made from Organic Cotton! See all the new baby quilts here.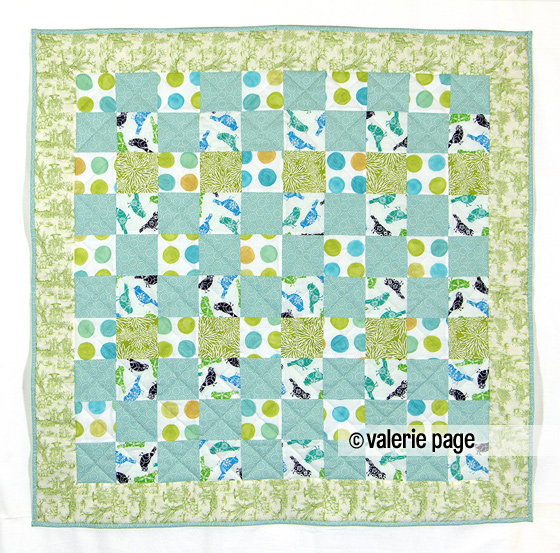 These lovely little kinder quilts are perfect for nieces or nephews...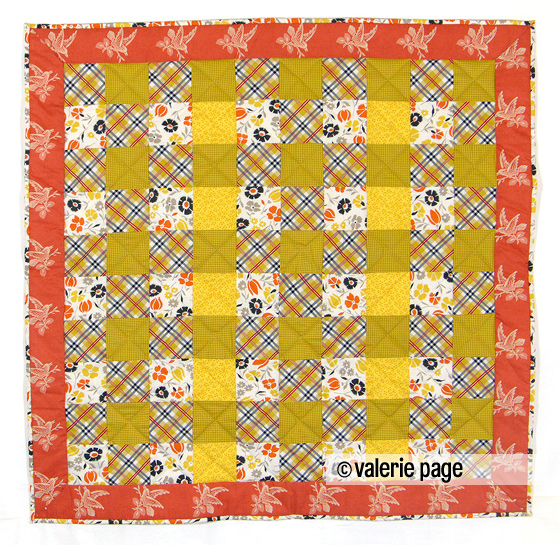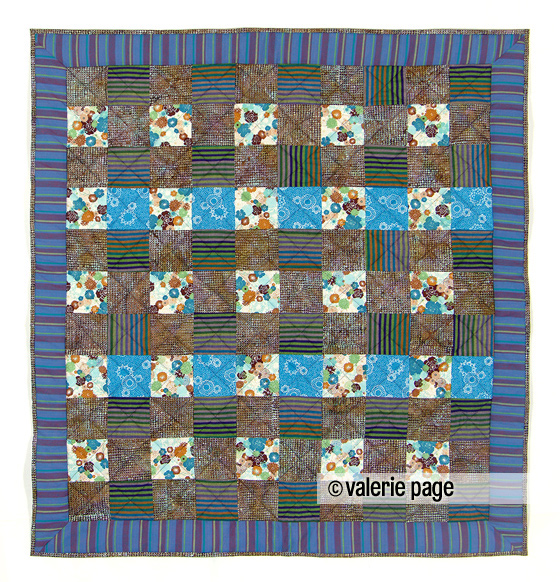 Organic Cotton Baby Quilts
Organic Cotton baby quilts are softer than soft. They are fluffy and feel lovely.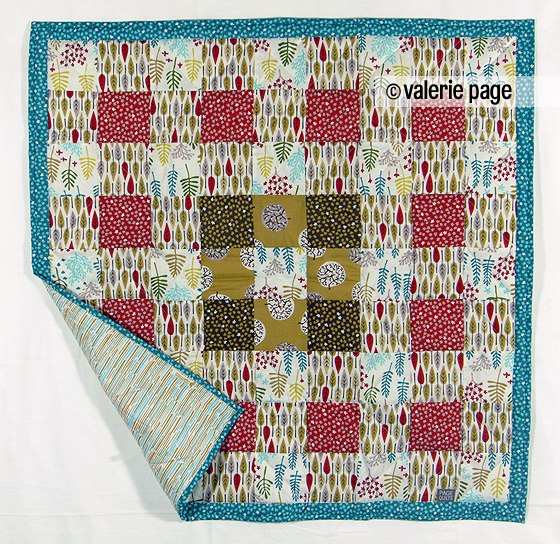 Custom Embroidery on Baby Quilts
For a small fee, Valerie can stitch in short names. For a larger fee, longer baby names.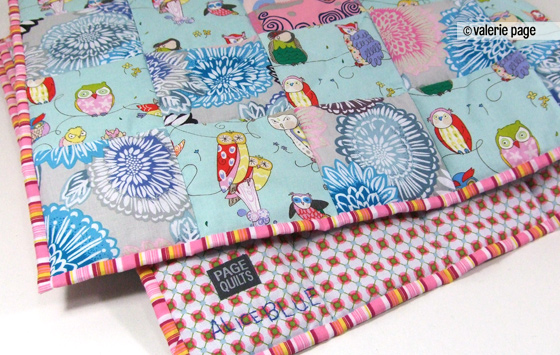 (Shown: Alice's baby quilt)
See all the newest baby quilts here.
For the latest updates you can always follow PaqeQuilts on Facebook.
---
---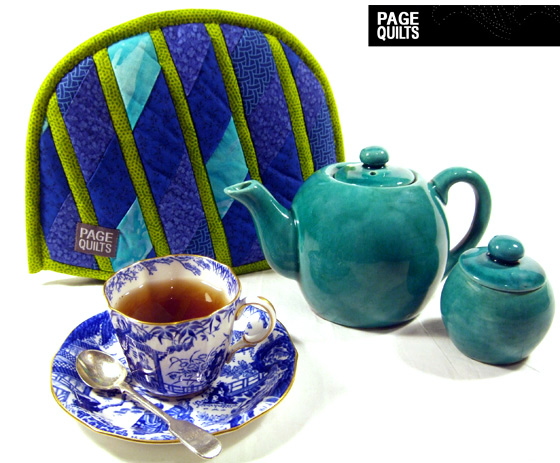 We Make Really Decent Quilted Tea Cosies
Freshly quilted and tested to ensure your best tea remains hot. PageQuilts Tea Cosies are $55 each. To order yours today contact Valerie.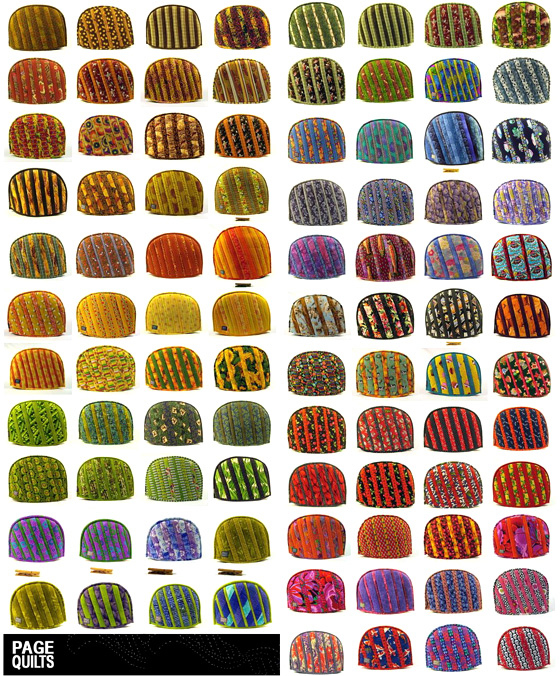 ---
---
For a Scandinavian Wood Kitchen
A light and airy tea cosy for a gentleman's Scandinavian kitchen, to match beech Hans Wegner Wishbone chairs. Can we make you one? Email Valerie.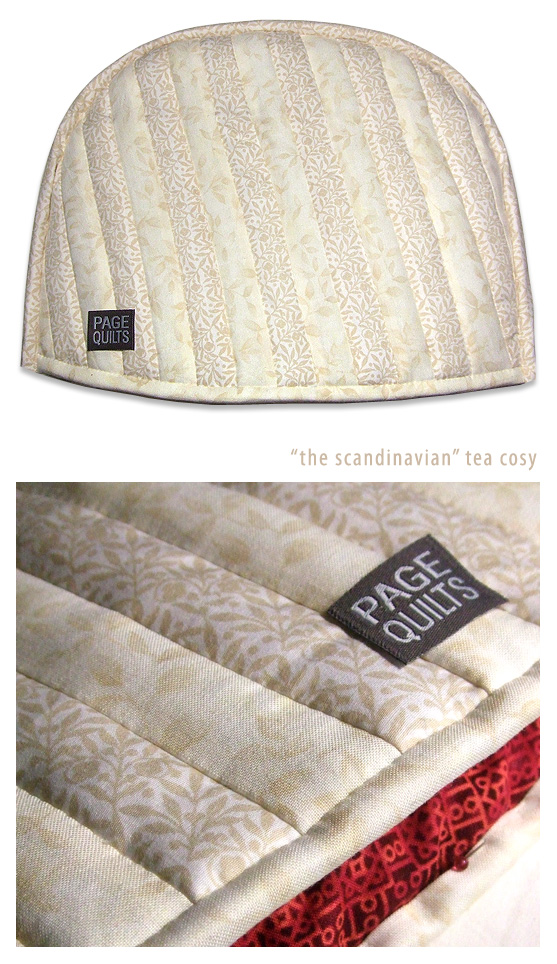 Inside? A dash of crimson of course.
Custom Quilts For Special Babies - a gift for all time
Looking for that perfect gift for a friends new baby? Valerie can sew up a custom baby quilt in colours that match mom's favourite palette, in about a week. Prices are very reasonable, so ask Valerie today.

(Shown: Bronwyn's, Norah's and Sophia's baby quilts)