New Baby Quilts
---
Valerie has added over a dozen new baby quilts to the website today. It can be difficult to find just the right baby quilt, but hopefully we've got you covered...

Feel The Warmth Under a Tea Cosy
---
Freshly quilted, English-style Tea Cosies that ensure your best tea remains hot for you to enjoy at a leisurely pace. PageQuilts Tea Cosies are hand made by Valerie in the Leslieville area of Toronto, not too far from Lady Marmalade. Our standard size cosy accommodates a wide variety of tea pots, up to about 12" width (spout to handle) by 9" height. Made from cotton fabrics and multiple layers of synthetic insulation, fully lined, machine washable. Price is $55 each.

1) Pick your tea cosy colour of choice - here.
2) Contact Valerie to purchase it.
3) Learn how PageQuilts Tea Cosies are tested to keep your tea hot.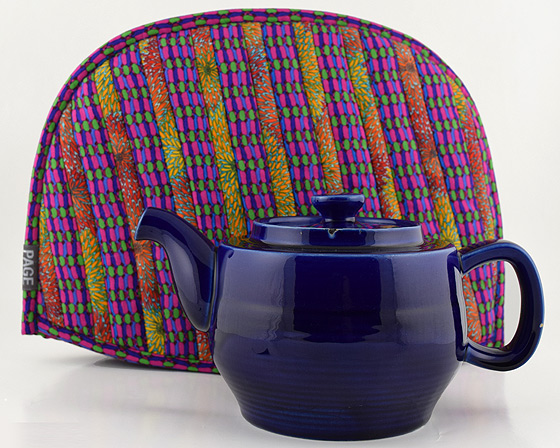 Tea Cosy Sizes
Valeries' Standard Tea Cozies will fit pots up to 12in (30.5cm) in length and 9in (23cm) in height.
The Small (two-cupper) Tea Cozies will fit pots up to 9.5in (24cm) in length and 7.5in (19cm) in height.
X-Large Tea Cozies will fit pots like "Brown Betties" up to 13in (33cm) in length and 10in (26cm) in height.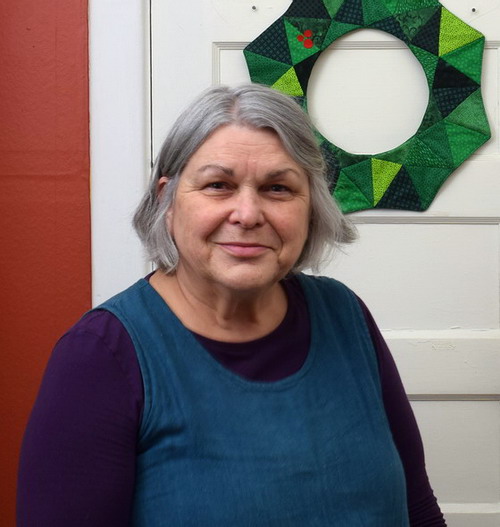 One a Kind Christmas Show 2015, Nov 26 - Dec 6th
Find PageQuilts at Booth W45 at the One of a Kind Christmas Show and Sale this week! There are more than 700 artists packed into the Exhibition Place halls, located right by the Princes' Gates, with a wonderfully diverse range of arts on display.
Follow PageQuilts on Twitter and Facebook where we'll be posting throughout the show.
Tea Cosy Updates - You can now browse through the updated tea cosy catalog online, right here.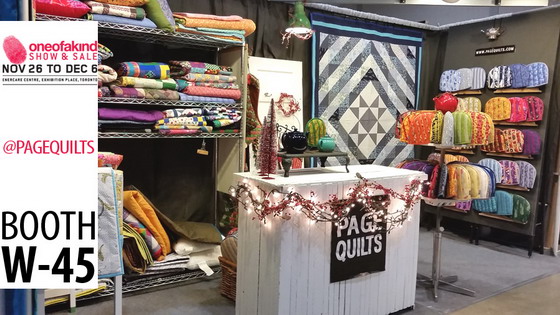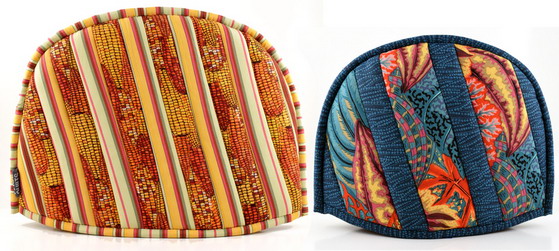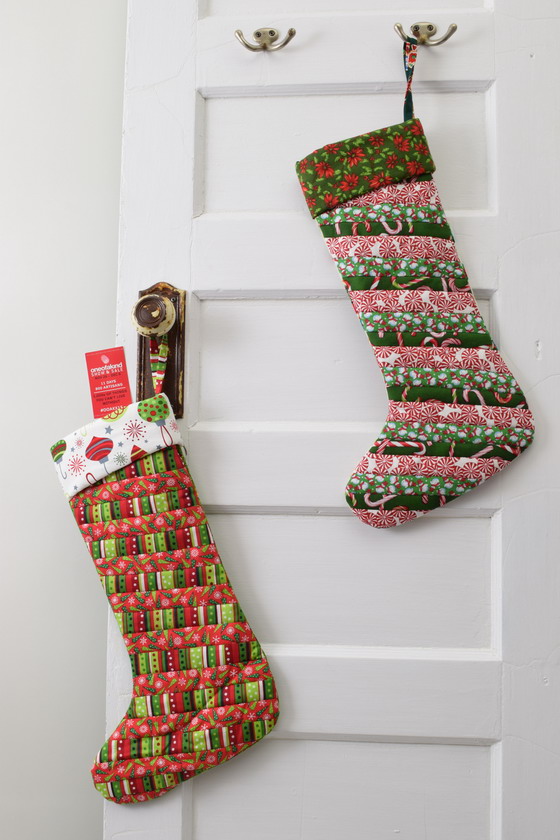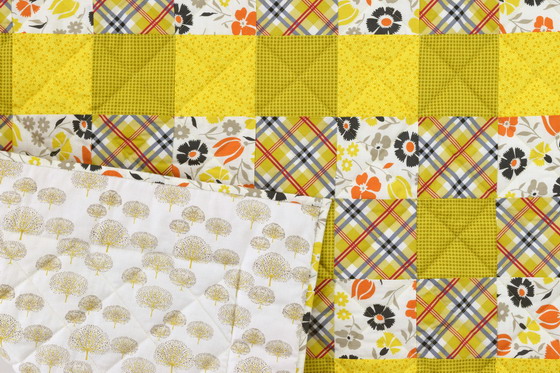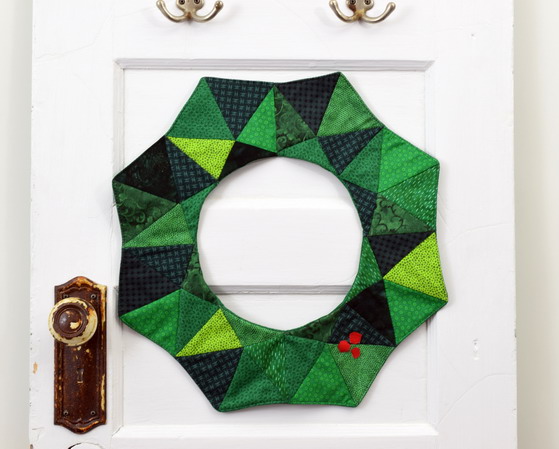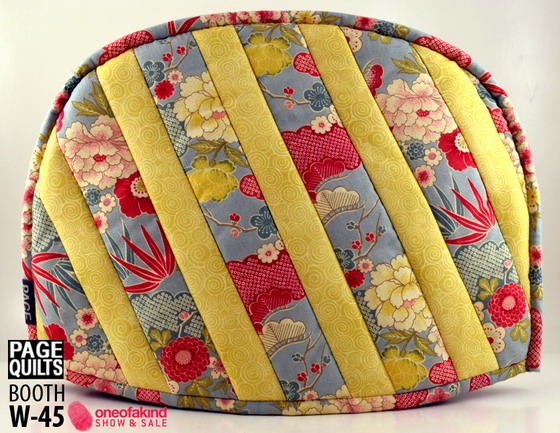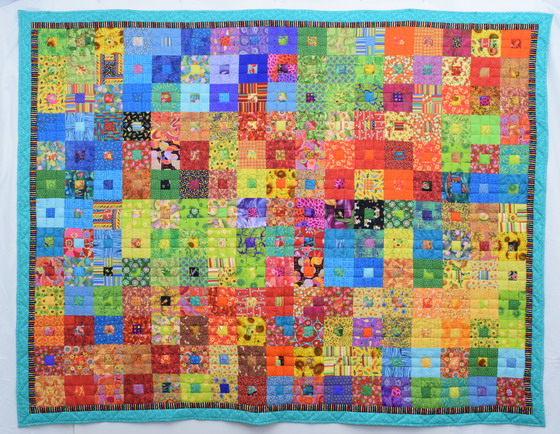 The One Year Baby Quilt
Recently, I was approached to make a quilt for a childs' first birthday. To celebrate the occasion in a very special way, the quilt was to be made from exactly 365 pieces - each representing one day of life in the child's first year. Such a lovely concept, not unlike candles on a birthday cake. :-)
To make a quilt like this, the pattern could be almost any combination of squares, rectangles or triangles... so long as the geometry balanced out to 365 parts. The fabric colour and prints would have to be the focal point, I mused, but one false step and the quilt could completely miss the point!
As always, the first step is combing through a great many fabrics to find just the right combination of colours and prints. Inevitably this leads to shuffling back and forth between piles of what works and what might work... In the end, you've just got to trust your creative instincts to take you down the right path.
Hopefully, the One Year baby quilt will stay in that special someone's heart for a long time - from their first birthday to possibly even their first child.
- Valerie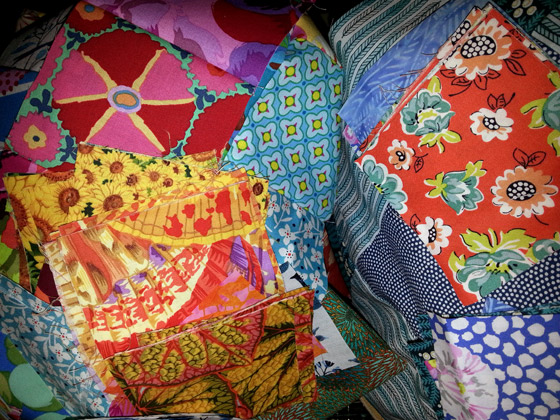 Spring Quilts
Mother nature needs a little reminder that it's Spring, judging by the light snow falling right now... This is a Lotus flower, hand painted on silk and quilted, from Valerie's days at OCA.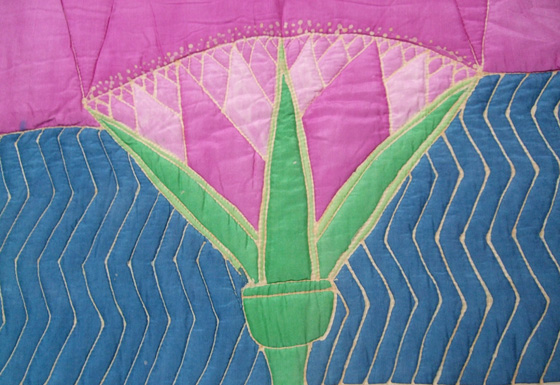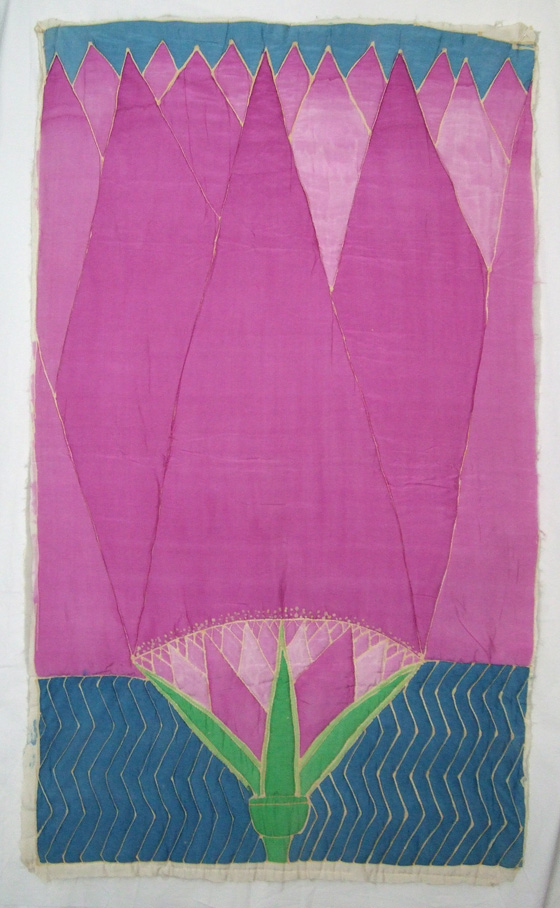 Bespoke Baby Quilts
Just a quick update to share this lovely baby quilt Valerie recently made for a great bunch of wonderful musicians. On the rear face are embroidered a few words for the intended recipient. If you'd like to know more about ordering a custom baby quilt, please contact Valerie and she'll answer all your questions.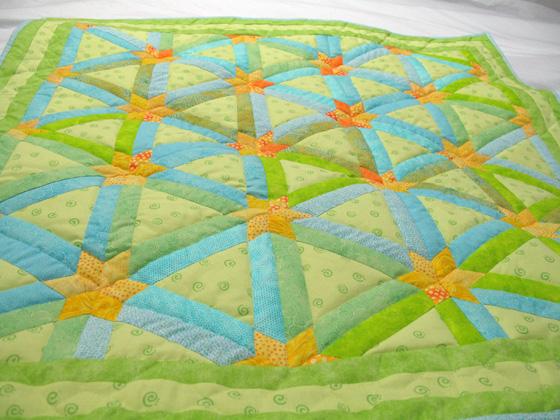 Keep you Tea Pots Hot
It's freezing outside, but that doesn't mean you have to drink ice tea! Valerie's tea cosies have three different types of insulation which work together to keep the heat in and keep the cosy looking nice. More importantly, we have plenty of colours in stock! See all of PageQuilts latest tea cosies here.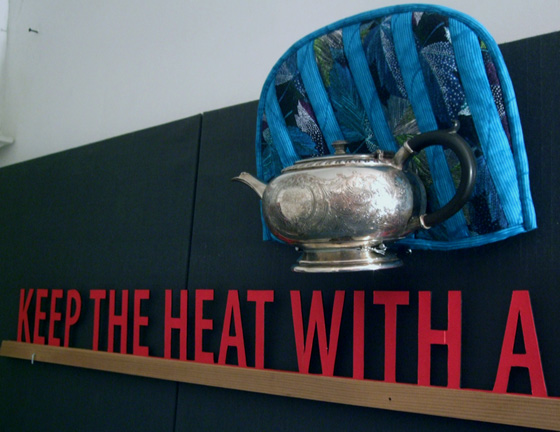 I've collected quite a few prints in every imaginable colour for quilting - a necessary measure, any quilter will assure you. By total fluke, this past weekend's crossword somehow manifested a sea of blue; pen, tea cup & saucer, checkered blue table cloth and yes... a blue-hued tea cosy! Find your colour tea cosy here.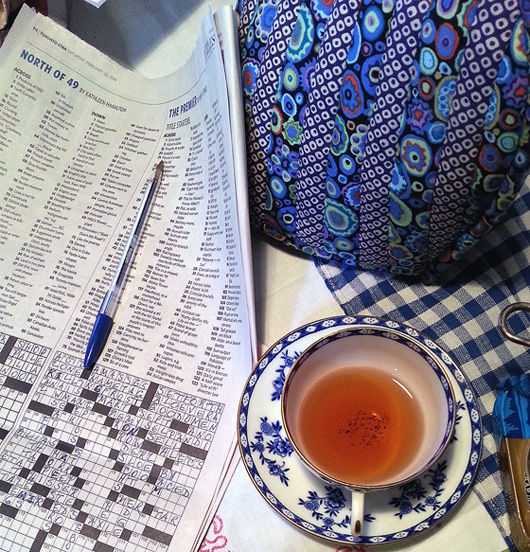 Final Days of One a Kind Christmas Show 2014, Nov 27 - Dec 5th
Looking for a truly One Of A Kind gift? See this hand stitched, quilted wall hanging based on the Fibonacci number system, made by Valerie Page Quilts at booth Y-35. The show ends this Sunday!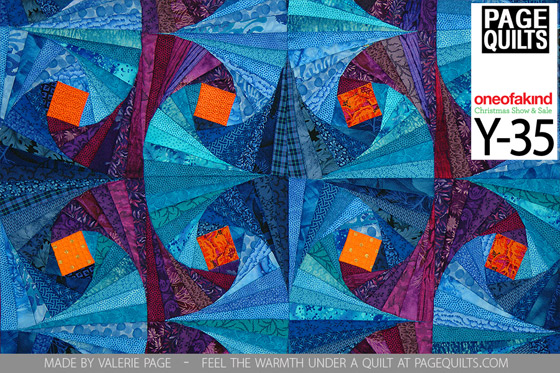 Quilts and Things for Sale at One a Kind Christmas Show 2014, Nov 27 - Dec 5th
If you haven't yet made it to One of a Kind, you've got a few days left to take in the splendor... there are more than 700 artists packed into the Direct Energy Center this year, with a wonderfully diverse range of good on display.
Here's a few highlights from Valerie Page Quilts' booth (Y-35).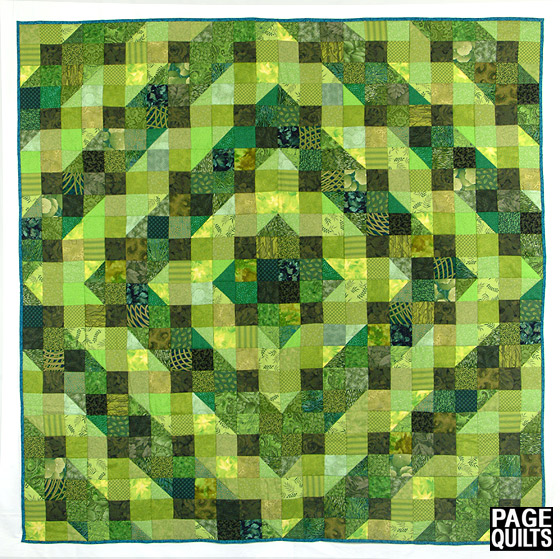 Wall quilts like this green beauty which measures 59"x59" can be hung just like a painting to brighten up a room.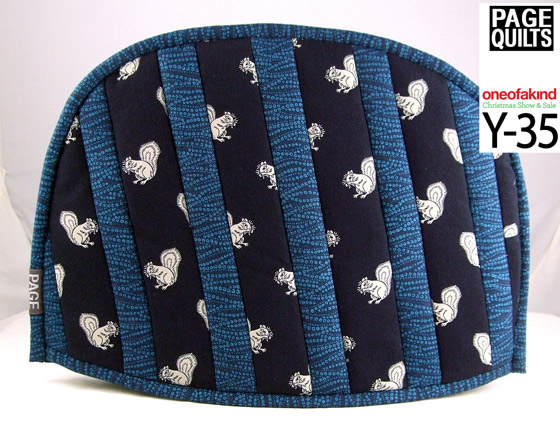 Honour the White Squirrels of Trinity Bellwoods Park with a white squirrel Quilted tea cosy made Valerie! Each cosy is constructed with three layers of insulation and the basting is hand stitched - they keep the heat in extremely well and make excellent gifts.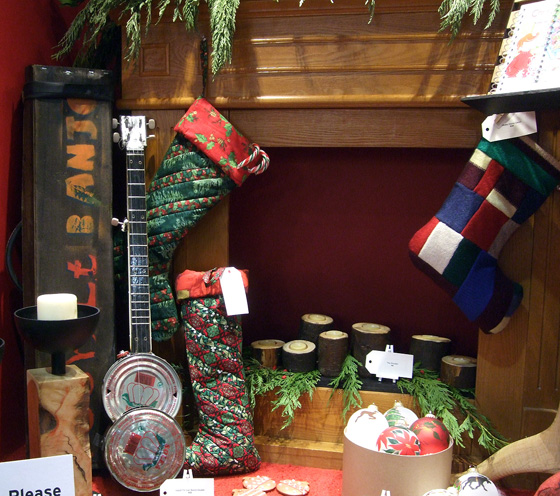 Looking for nice Christmas stockings that will fit over a doorknob, bed post or hang from the mantle? Get one before they're gone, at One of a Kind this week - Booth Y35.

Here's a sampling of a few of the new baby quilts!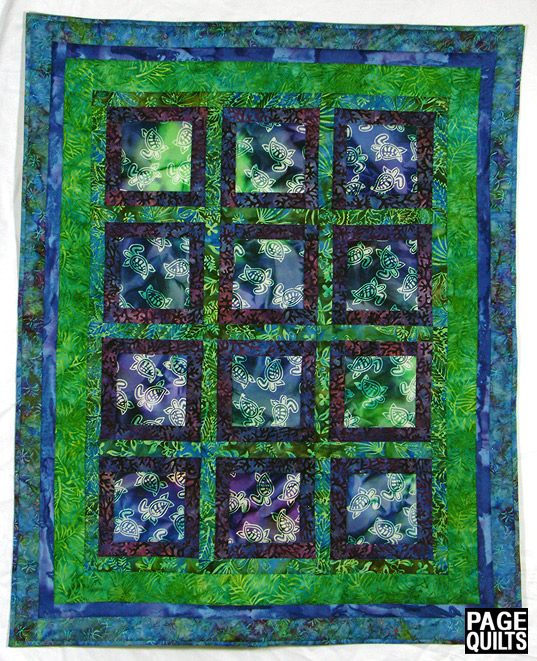 Measures 32"x39", $160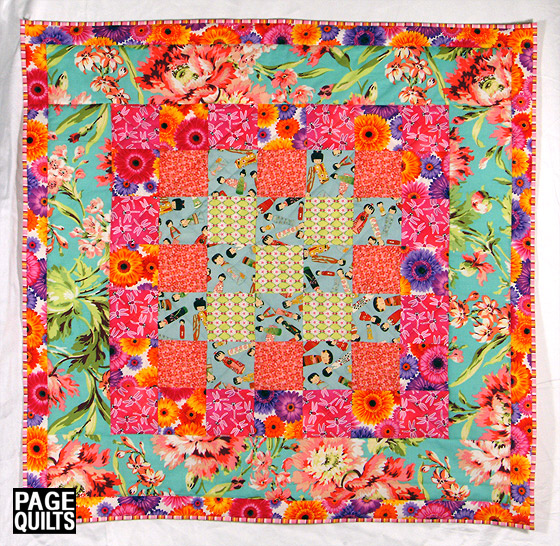 Measures 37"x37", $160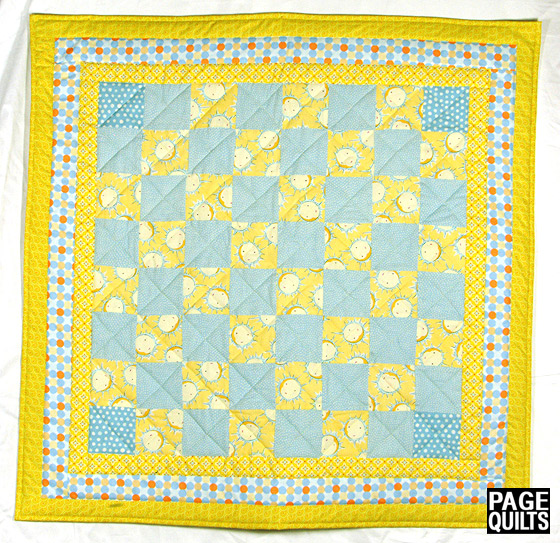 Measures 37"x37", $150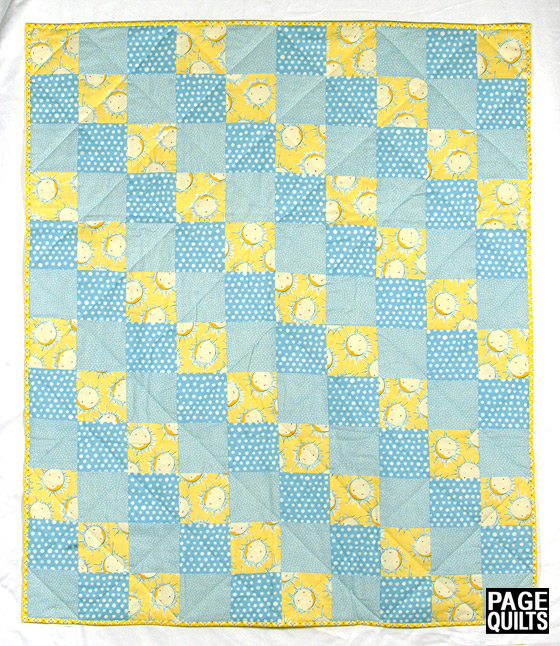 Measures 34"x41", $140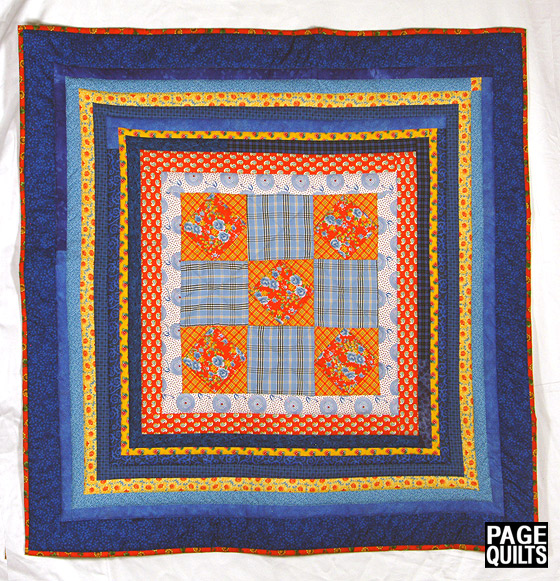 Measures 38"x38", $160
Visit PageQuilts at One a Kind Christmas Show 2014, Nov 27 - Dec 5th
Day 1 of One of a Kind Christmas Show & Sale 2014 is off to a bounding start! If you're attending, be sure to swing by booth Y-35 and say hello... as a bonus, the booth next door has absolutely beautiful paintings by an aboriginal artist by the name of Jay Bell Redbird.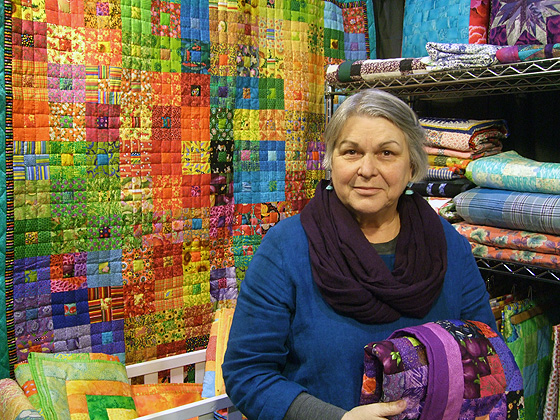 Visit Valerie Page Quilts at Booth Y-35, Nov 27 - Dec 5th 2014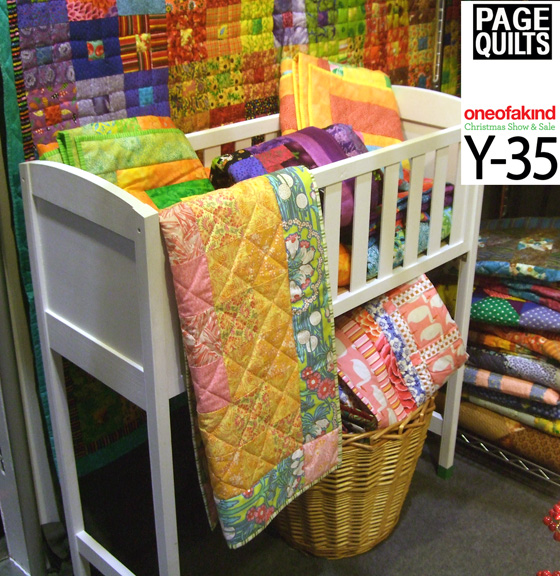 Baby Quilts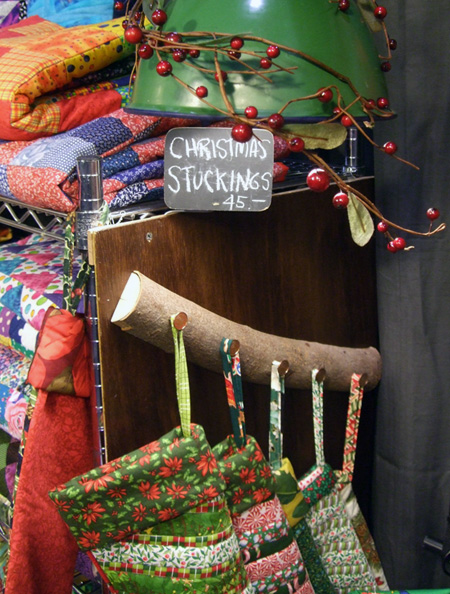 Christmas Stockings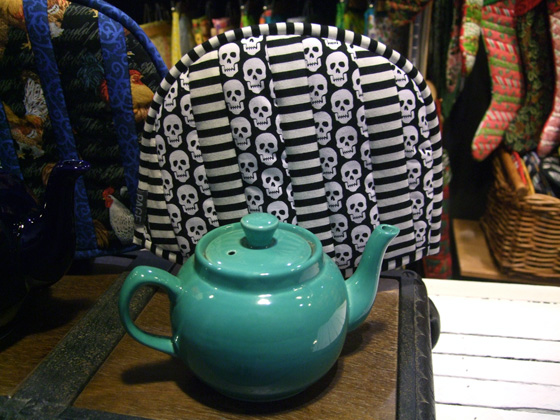 Tea Cosies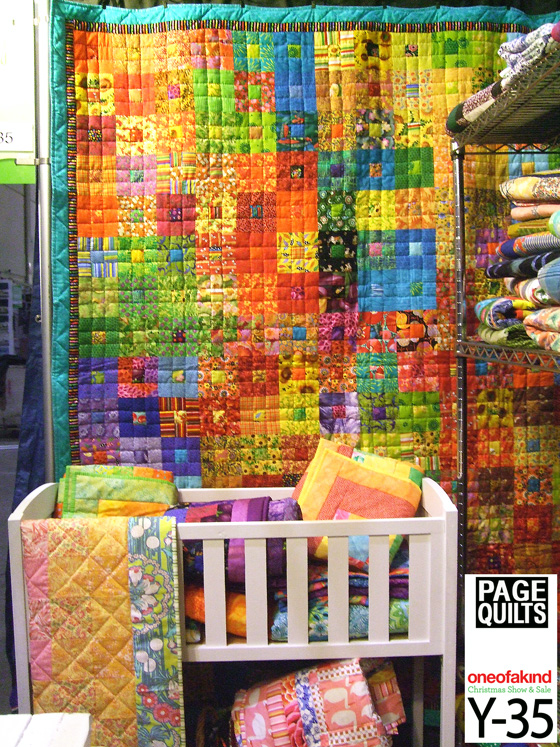 Bed Quilts
Quilting and Rock Stars, Well Sort Of...
As you wander through PageQuilts.com you might wonder about the 'little old lady' who makes each and every quilt herself. Her artist bio tells a lot, but not the whole story of Valerie's creative background...
Little known fact: Valerie once made a small mountain of stuffed rabbits for the Toronto music festival, North By North East (nxne.com) based on original artwork by Stephen Chester. Many of the stuffed rabbits Valerie made (nick-named "Sketchy" Rabbit by festival volunteers) left Canada to tour around the world with various indie bands, while one rabbit in particular featured in t-shirts and posters in subsequent NXNE years.
Here's Iggy Pop, holding one of the NXNE Rabbits Valerie designed and made!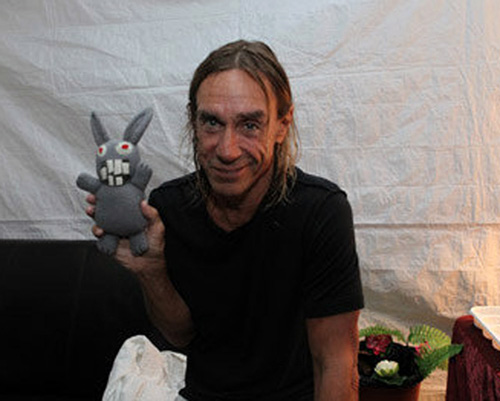 Iggy Pop at Yonge and Dundas Square where he headlined NXNE 2010
One a Kind Christmas Show 2014
With the flurry of snow this week, I was quietly reminded that Christmas is indeed just around the corner. With One of a Kind Christmas Show starting this week things are hectic and hurried, but I've sewn up some really lovely baby quilts and on top of that, wrapping paper worthy Christmas stockings. There will be hand-knit Coffee cuffs for sale (otherwise available at Mercury Espresso) for $10 and plenty of different colours to choose from in quilted Tea Cosies.
One of a Kind runs Nov 27 - Dec 7th and my booth number this year is Y-35. I look forward to seeing you there!
Follow along on the PageQuilts Facebook for the quickest updates.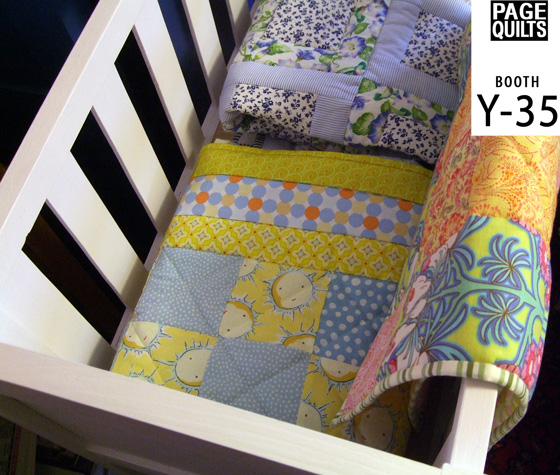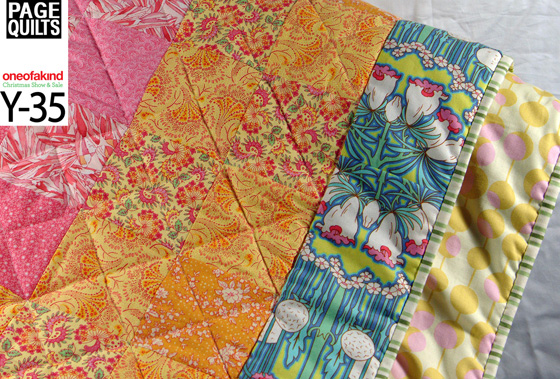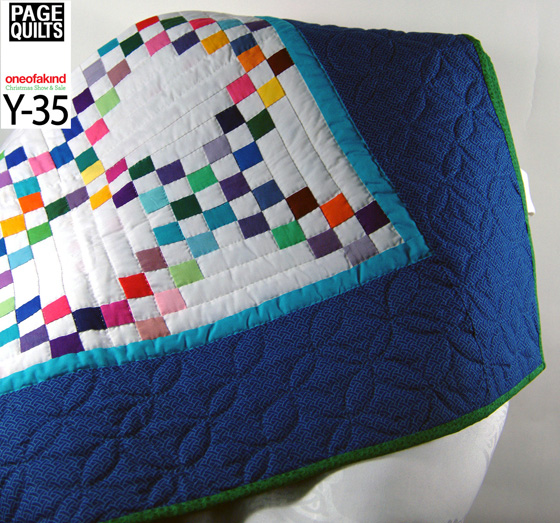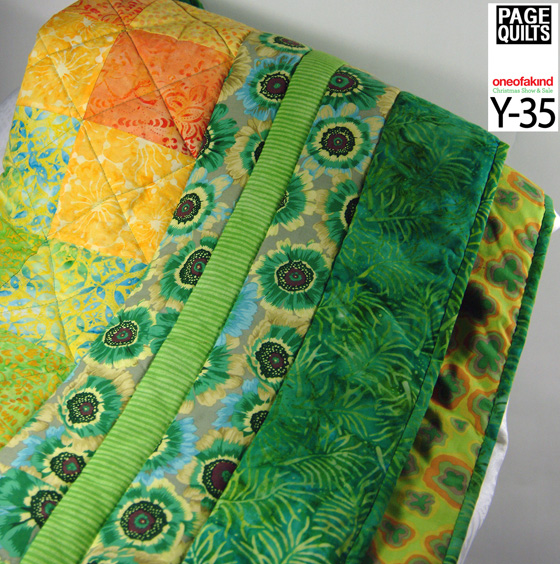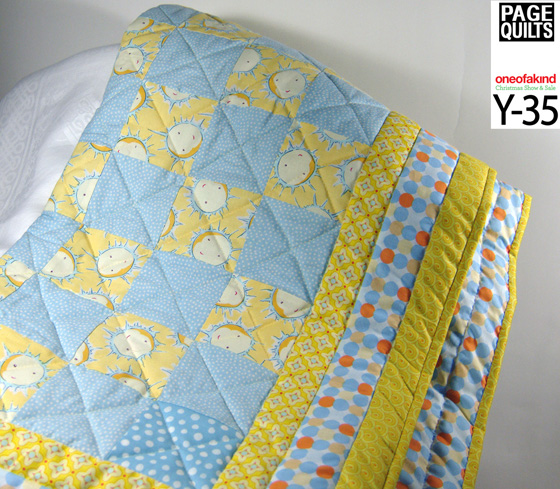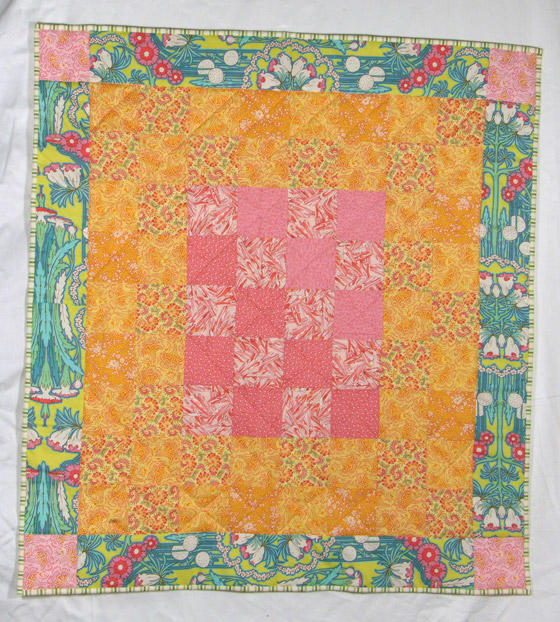 Toronto Baby Quilts
---
100% Made by Valerie, in Toronto. Perfect little baby quilts for that little bundle of joy, poop and giggles. There are a few more to choose from, here.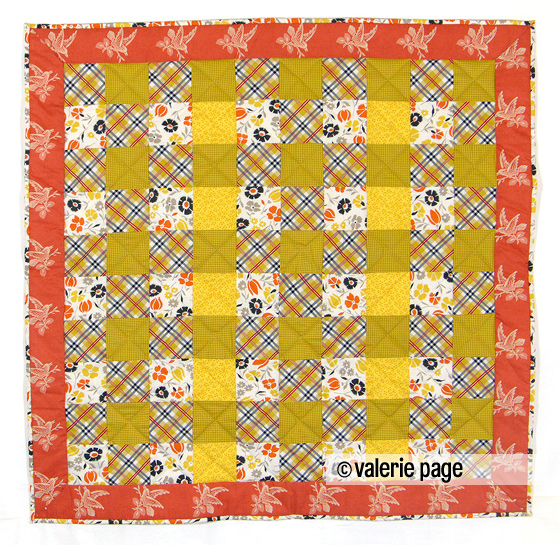 French Baby Quilt
---
No.0089
Details: Measures 41" x 41" / Toronto 2012 / Cotton. Colour combination - French yellow and salmon fabrics from Paris, plaid and floral prints.

Price: $180
Q. Looking for a Custom Baby Quilt as a Gift?
- We Make Them.
---
Looking for personalized gift for a new baby that really stands out?
How about a one of a kind, bespoke baby quilt for under $200? Contact Valerie today to get your baby quilt gift started. Valerie will discuss colour choices with you, then sew the baby quilt and embroider the child's first name in one corner. Lead time is about four days, but if you're in a hurry we might be able to help out.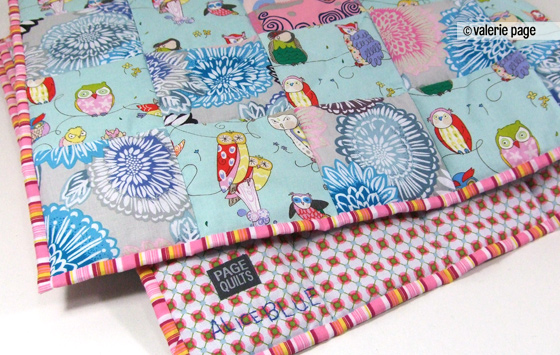 This quilt is made entirely with Certified Organic Cotton fabric.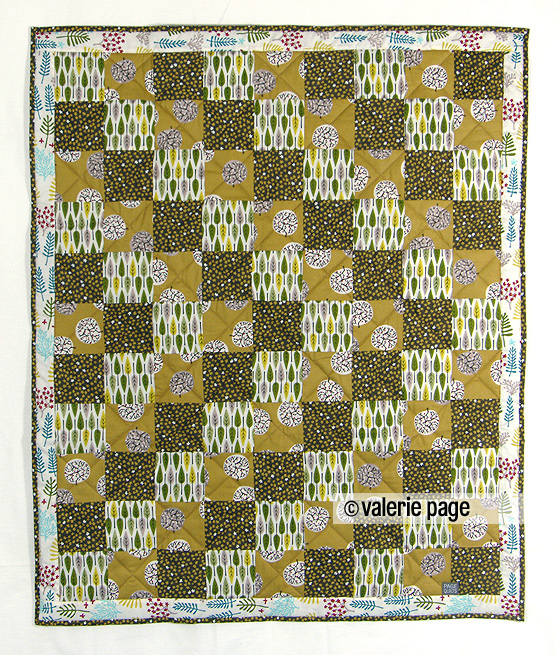 Organic Cotton Baby Quilt in Browns
---
No.0255
Details: Measures 35" x 42" / Toronto 2012 / Certified Organic Cotton. Colour combination - pale green and blue, bird and abstract prints.

Price: $150