I love colours, deep vibrant colours, surrounded, standing alone, or jumbled in with a myriad of other colours.

When I first started making quilts I couldn't afford to buy many new fabrics, so I indulged this new passion by scouring the used clothing stores of Montreal. Second hand clothing wasn't as popular at this time so it was a cheap and plentiful way to acquire lots of fabulous textiles.

Vintage clothing with their peculiar prints and wonderful colours were plentiful. Deconstructing these pieces yielded me a veritable unlimited source of fabrics to reconstruct into quilts. To this day I still have some pieces of clothing and scraps of fabric acquired in those early exploratory days.

Those remnants of the past have traveled with me to this day; sometimes they fit in sometimes not. Anachronisms, blended with the new and innovative fabrics of this century, somewhat like the person who uses them to re-live and re-create.

I started making quilts in the early '70s. A woman who admired the original patchwork clothing I made and sold in Montreal introduced me to the art through a book of quilts.

The effect was immediate; the next step was pure logic, the results are with me to this day.

Colour and form; the tools of re-invention, were and still are well used to re-interpret how they are seen in relation to their surroundings. Quilts, for me, are the perfect method of supplying endless exercises in form, colour and texture.

Re-interpreting the traditional approach to quilts became my venue.

Looking over my progressions and regressions through the years, I feel the rhythm of my involvement in the changes in my family, friends and to a certain extent the environment that I have tried to become a part of.

The '70s were a time of recognition for artisans; everything handmade was given status, nurtured. Art classes were offered through government sponsored workshops in community centres throughout Montreal, throughout all of Canada.

This was a period of great advancements for me. I ran workshops, taught at the YWCA and at the Visual Arts Centre, all parallel to my own successful studio in my home on Clark Street.

One memorable highlight from this time was an impromptu visit from the 1976 Japanese Woman's Volleyball Olympic Team; the ladies were fascinated with the quilts and bought a few, this was at a time when quilting was gaining popularity in Japan. The time spent in Montreal helped me to soar, to try everything; such is the power of appreciation.

Quilting As An Art Form

For me, the quilt as a means for expression is a perfect choice. It exemplifies the limitless possibilities of interpretation.

Colour and shape; the mainstays of artistic expression, are the elements that are brought to life with the addition of texture.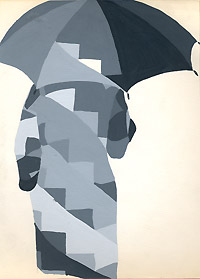 "Re-interpreting the traditional approach to quilts became my venue."

In exploring why I choose to create using geometric graphic designs comprised of fabrics joined in specific colour combinations, I have discovered that it is the exploration of the combinations that motivates my process.

Not so much the destination as the journey; the quilts I create are in the end a representation of my life. The instinctive interplay of colour carries much of the interpretive weight.

What to me is a perfect colour and geometric harmony may not be to another. This applies to all arrangements in my work.

The possibility of reaching another through one's personal interpretations is tremendous; as each of us reads ourself into that which another has created.

On reflection, my 30-plus years of fabric-based projects reveals a system of patterns which become evident through my use of design and colour selection.

Centres, in particular, re-occur as the integral part of an unconscious theme. Either standing alone or in groups, the solo/single centre, as seen in my early pieces, appears at the exact centre of either the whole piece or the quadrants that comprise the piece.

Centres, created by simply being surrounded, accomplish through the mixing of colours a visual direction, a textural evolution. The quilting, an element that alters the surface of the cloth, adds shadow and shape. These in turn reflect light and movement, alternating tension with relaxation. Creating a balance between rigidity and softness, what is here and what is not.

Valerie Page
Toronto, 2011


Exhibitions & Shows

1976 Place Bonaventure, Montreal
1976 School of Architecture, McGill University, Montreal
2005 Harbourfest 05 / Harbourfront Centre, Toronto
2005 'Purple Magic Garden' quilt displayed in window of Bergströms, Toronto
2006 45th Toronto Outdoor Art Exhibition, Toronto
2006 Canadian Home and Country Show, Toronto
2007 One of A Kind Spring Show, Toronto
2007 One of A Kind Christmas Show, Toronto
2008 'Fireworks KaBOOM!' Installation at Mercury Espresso Bar, Toronto
2008 One of A Kind Spring Show, Toronto
2008 Cottage Country Craft Show, Bala Ontario
2008 Cabbagetown Festival, Toronto (info )
2008 One of A Kind Christmas Show, Toronto
2009 One of A Kind Spring Show, Toronto
2009 One of A Kind Christmas Show, Toronto
2010 One of A Kind Spring Show, Toronto
2010 One of A Kind Christmas Show, Toronto
2011 One of A Kind Spring Show, Toronto
2011 One of A Kind Christmas Show, Toronto
2012 One of A Kind Spring Show, Toronto
2012 One of A Kind Christmas Show, Toronto
2013 One of A Kind Christmas Show, Toronto
2014 One of A Kind Christmas Show, Toronto
2015 One of A Kind Christmas Show, Toronto


Teaching Positions :

1974 YWCA, Montreal
1974 Local Initiative Programs, Montreal
1975-77 Visual Arts Centre, Montreal
1974-79 Private Classes, Montreal
2007 Haliburton School of the Arts, Haliburton
2008 Beginners Quilting Workshops, Toronto
2009 Haliburton School of the Arts, Haliburton


Commissions of Note:

1982 Clayton Ruby
1987 Scott Clinic
1987 Sweaters for lead character in "Adventures in Babysitting"
2003 Presentation quilt for lead in short docu-drama "Cinnamon Hill"
2006 Burgundy Magic Garden Quilt (private collection)
2007 Oliva D.'s Baby Quilt
2009 Bronwyn & Norah T.'s Baby Quilts
2010 Thom Y.'s Baby Quilt
2010 Oliver R.'s Baby Quilt
2011 Sophia S.'s Baby Quilt
2011 Black and White Quilt (private collection)
2012 Alice Blue R.' Baby Quilt
2012 The Colourful Quilt
2014 COC Orchestra Quilt

Valerie Page

Media and Clippings:

1974 Decormag, Montreal
1975 Homemakers Magazine, Montreal
1976 Homemakers Magazine, Montreal
1976 Japanese Woman's Magazine
1977 Montreal Star
2007 Colin and Justin's Home Heist, Toronto (guest shot)
2008 Toronto Star newspaper, cover of the Living Section
2008 Gwilliam Ontario Lady Simco Statue unveiling, Gwilliam
2008 Interview by Chinese language Fairchild TV "Timeline Magazine" program for a feature story on Quilting, Toronto

Quilting Guild & Trunk Shows:

Related Works for Film, Music, Television:

1987 'Adventures in Babysitting', movie. Knit sweaters for one of the four lead characters and her stuntwoman. 'Sara', portrayed by actress Maia Brewton, wears a red, blue and yellow sweater knit by Valerie throughout most of this Chris Columbus film.
2006 + 2007 Collaborated to create a prototype stuffed rabbit version of NXNE Music Festival and Conference's mascot - "sketchy" rabbit - originally a line drawing by Stephen Chester. Would later sew up 77 more rabbits which travelled around the planet with indie bands. Sketchy's FB page has photos to prove its travels...
2008 Collaborated to create three human wearable wire frame masks for NXNE, of the Rabbit, a Panda and Monkey mascot. Original drawings by Stephen Chester.
2009 Created a NXNE Rabbit Pirate flag which travelled to Bora Bora.