Looking for a Tea Cosy this Spring? We've got you covered!
---
Head on over to the Tea Cosy gallery where you'll find tea cosies hand made by Valerie in her Toronto studio. Each tea cosy is quilted on the outside, lined inside and packed with multiple layers of synthetic insulation that work to keep a pot of tea hot!
If you don't spot a tea cosy in the colour range you like, contact Valerie by email.
When ordering, please reference the tea cosy number so we know which one you'd like! Thanks supporting this hand made little business!
PageQuilts Tea Cosies are hand made by Valerie in the Leslieville area of Toronto. Our standard size cosy accommodates a wide variety of tea pots, up to about 12" width (spout to handle) by 9" height. Made from cotton fabrics and three separate layers of synthetic insulation, fully lined, machine washable. Priced at $69CDN each.
1) Pick your tea cosy colour of choice - here.
2) Contact Valerie to purchase it.
3) Learn how PageQuilts Tea Cosies are tested to keep your tea hot.
Tea Cosy / Tea Pot Sizes:
Standard Tea Cozies will fit pots up to 12in (30.5cm) in length and 9in (23cm) in height.
The Small (two-cupper) Tea Cozies will fit pots up to 9.5in (24cm) in length and 7.5in (19cm) in height.
Extra-Large Tea Cozies will fit pots like "Brown Betties" up to 13in (33cm) in length and 10in (26cm) in height.
Hand Sewn Baby Quilts in Leslieville
---
Looking for a colourful little baby quilt for that special bundle of joy? We've got you covered. Tucked into strollers and car seats to keep baby warm, or used in babies crib, these cotton quilts are not too bulky and are machine washable. All baby quilts are made by Valerie herself, in the Leslieville area of Toronto.
No.0089
Details: Measures 41" x 41" / Toronto 2012 / Cotton. Colour combination - vibrant yellow and salmon fabrics from Paris, plaid and floral prints.
Price: $180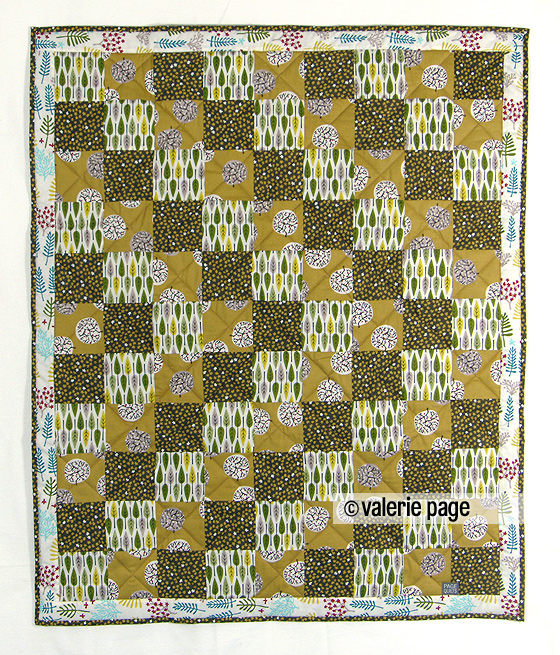 Organic Cotton Baby Quilt in Browns
No.0255
Details: Measures 35" x 42" / Toronto 2012 / Certified Organic Cotton. Colour combination - pale green and blue, bird and abstract prints.
Price: $150
Keep the Heat under a Quilted Tea Cosy
---
As of March 2021, the price of our standard-sized Quilted Tea Cosies are $69 CDN, our small Two-Cupper sized Tea Cosies are $49 CDN and the jumbo Tea Cosies $79 CDN.
The pandemic has driven the cost of materials way up, so we've had to adjust our prices. I believe in delivering quality hand sewing that does the job, so you can rest assured that care and attention continues to be put into each and every PageQuilts Tea Cosy that Valerie sews by hand.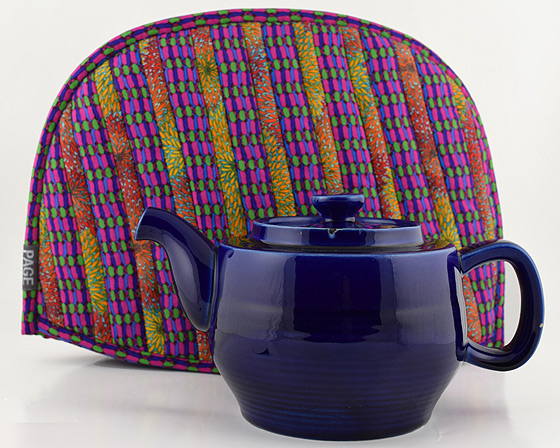 If you want to take home your own quilted tea cosy, please take browse through our Tea Cosies and email Valerie when you're ready to order.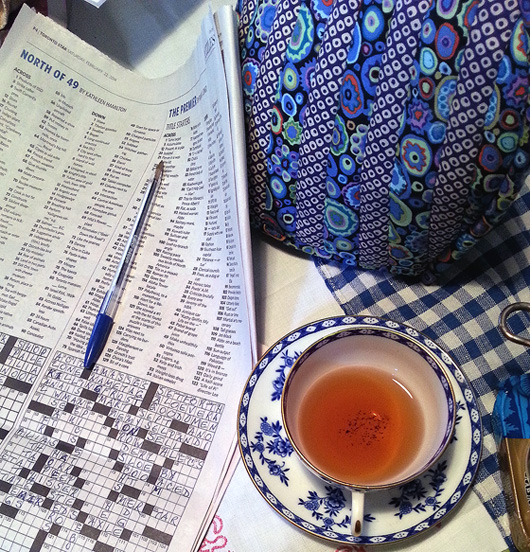 Christmas Stockings are back in stock
---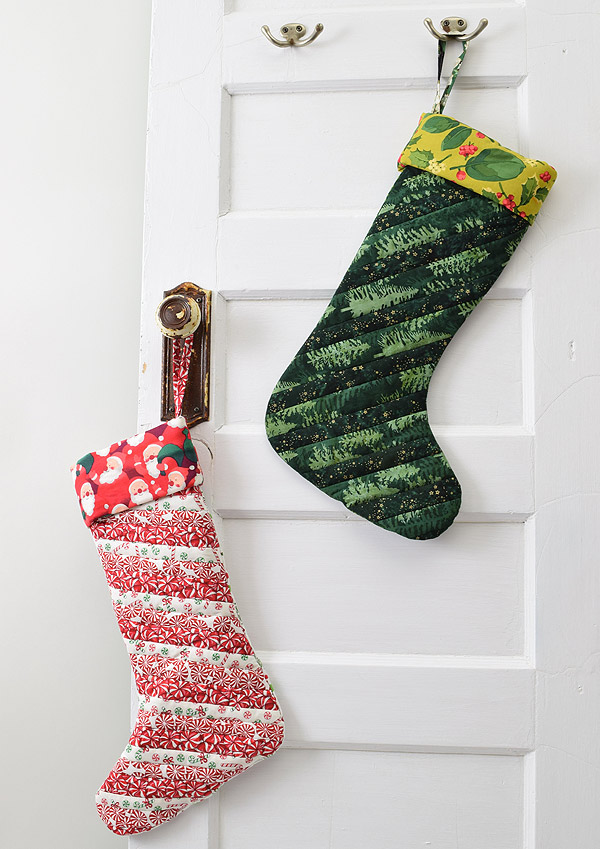 Hand made stockings for the kids, or the whole family. Made in Toronto, each stocking is about 18" long, cuffed at the top and comes with a quilted front and plain back. The inside is lined with fabric for a well finished appearance that will last for years. Brows through all the colours and choose one you like. Reach out to Valerie to order.
Hand made Christmas stockings are $45 each, or two for $80.
New Baby Quilts
---
Valerie has added over a dozen new baby quilts to the website today. It can be difficult to find just the right baby quilt, but hopefully we've got you covered...

The One Year Baby Quilt

Recently, I was approached to make a quilt for a childs' first birthday. To celebrate the occasion in a very special way, the quilt was to be made from exactly 365 pieces - each representing one day of life in the child's first year. Such a lovely concept, not unlike candles on a birthday cake. :-)

To make a quilt like this, the pattern could be almost any combination of squares, rectangles or triangles... so long as the geometry balanced out to 365 parts. The fabric colour and prints would have to be the focal point, I mused, but one false step and the quilt could completely miss the point!

As always, the first step is combing through a great many fabrics to find just the right combination of colours and prints. Inevitably this leads to shuffling back and forth between piles of what works and what might work... In the end, you've just got to trust your creative instincts to take you down the right path.

Hopefully, the One Year baby quilt will stay in that special someone's heart for a long time - from their first birthday to possibly even their first child.
- Valerie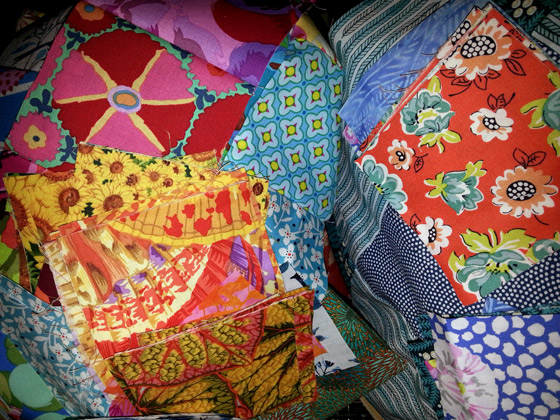 Spring Quilts
Mother nature needs a little reminder that it's Spring, judging by the light snow falling right now... This is a Lotus flower, hand painted on silk and quilted, from Valerie's days at OCA.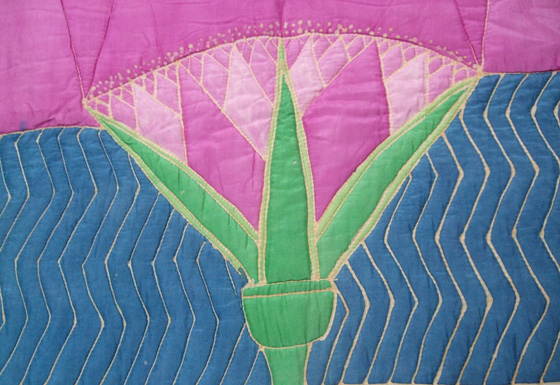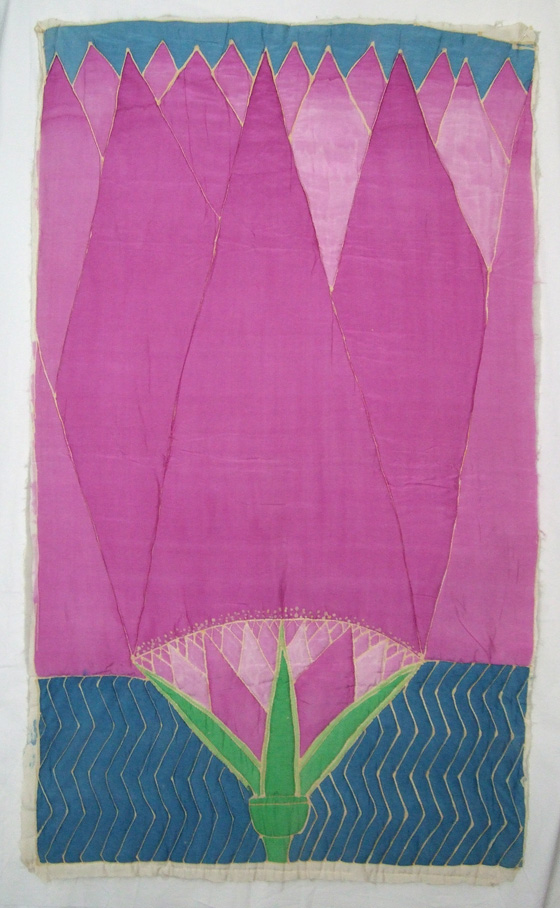 Bespoke Baby Quilts
Just a quick update to share this lovely baby quilt Valerie recently made for a great bunch of wonderful musicians. On the rear face are embroidered a few words for the intended recipient. If you'd like to know more about ordering a custom baby quilt, please contact Valerie and she'll answer all your questions.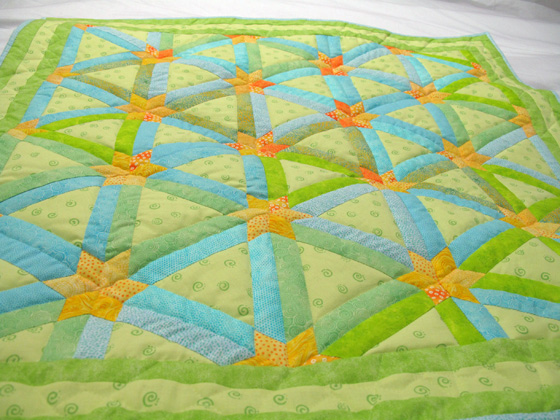 Keeping Tea Pots Hot!
It's freezing outside, but that doesn't mean you have to drink ice tea! Valerie's tea cosies have three different types of insulation which work together to keep the heat in and keep the cosy looking nice. More importantly, we have plenty of colours in stock! See all of PageQuilts latest tea cosies here.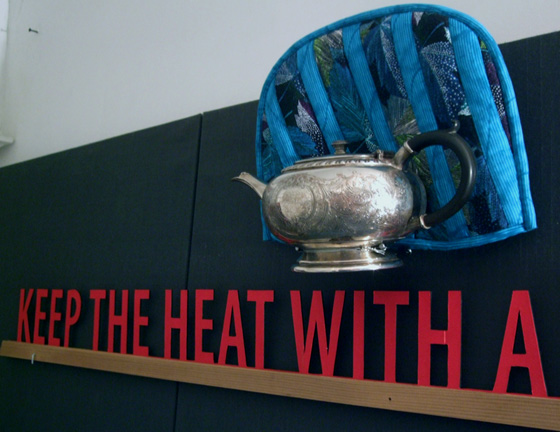 I've collected quite a few prints in every imaginable colour for quilting - a necessary measure, any quilter will assure you. By total fluke, this past weekend's crossword somehow manifested a sea of blue; pen, tea cup & saucer, checkered blue table cloth and yes... a blue-hued tea cosy! Find your colour tea cosy here.
Quilting and Rock Stars, Well Sort Of...
As you wander through PageQuilts.com you might wonder about the 'little old lady' who makes each and every quilt herself. Her artist bio tells a lot, but not the whole story of Valerie's creative background...
Little known fact: Valerie once made a small mountain of stuffed rabbits for the Toronto music festival, North By North East (nxne.com) based on original artwork by Stephen Chester. Many of the stuffed rabbits Valerie made (nick-named "Sketchy" Rabbit by festival volunteers) left Canada to tour around the world with various indie bands, while one rabbit in particular featured in t-shirts and posters in subsequent NXNE years.
Here's Iggy Pop, holding one of the NXNE Rabbits Valerie designed and made!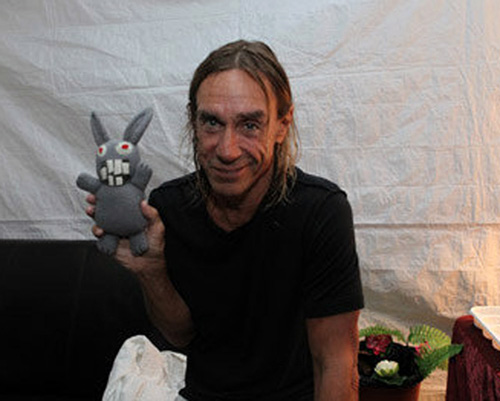 Iggy Pop at Yonge and Dundas Square where he headlined NXNE 2010
Q. Looking for a Custom Baby Quilt as a Gift?
- We Make Them.
---
Looking for personalized gift for a new baby that really stands out?
How about a one of a kind, bespoke baby quilt for under $200? Contact Valerie today to get your baby quilt gift started. Valerie will discuss colour choices with you, then sew the baby quilt and embroider the child's first name in one corner. Lead time is about four days, but if you're in a hurry we might be able to help out.