Christmas Stockings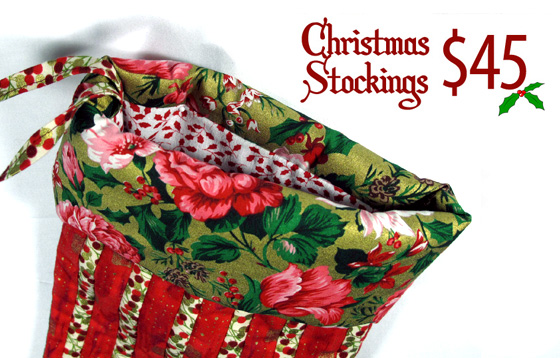 Carry on the Christmas tradition with your family by choosing a Christmas Stocking that can last a life time. A sturdy loop big enough to fit over a doorknob or bed post makes hanging our stockings on the Night Before Christmas, a breeze.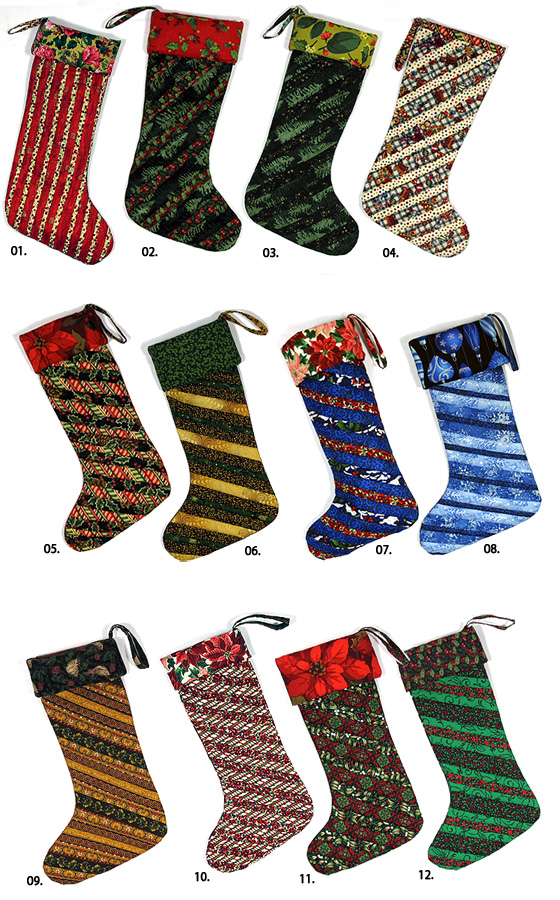 Available Christmas stocking colours aredisplayed above. Priced at $45/ea. Order here by quoting the number next to the stocking of your choice. Hand made in Toronto by Valerie.
---
---
Final DAY - One Of A Kind Christmas Show


Don't Delay, One of a Kind 2013 Ends in One Day!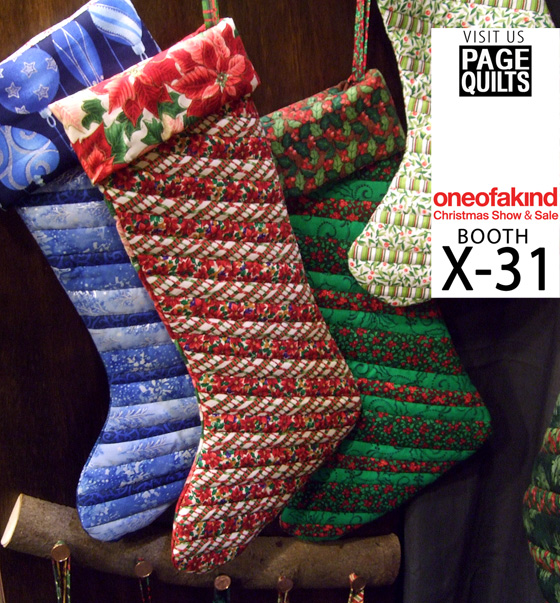 Christmas Stockings! Hanukkah Stockings - hey, why not?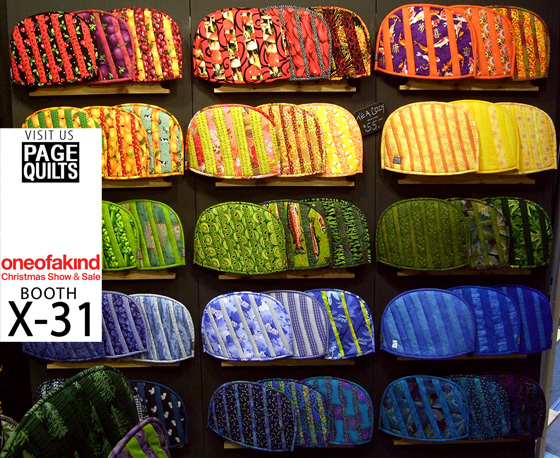 Bundle up it's cold out there... l Tea Cosies keep the heat in. Booth X-31 - PageQuilts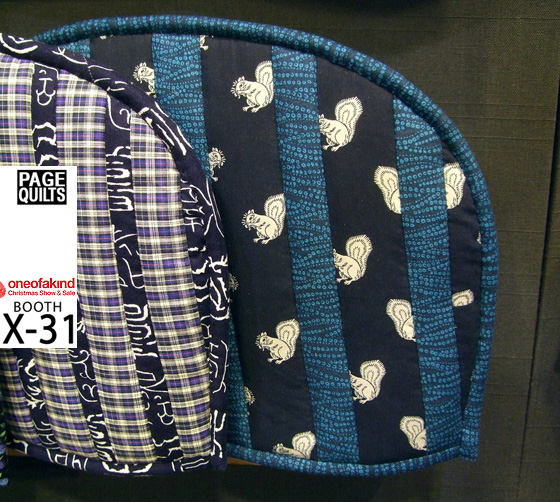 How can you say No to a White Squirrel Tea Cosy? Snap it up at booth X-31 during the final day of One of a Kind Show and Sale Toronto, this weekend.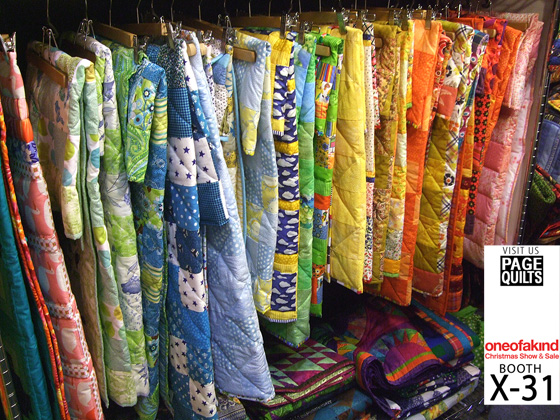 Baby Quilts in every colour of the rainbow, for that special little bundle of joy. Snap one up at booth X-31 during the final day of One of a Kind Show and Sale Toronto !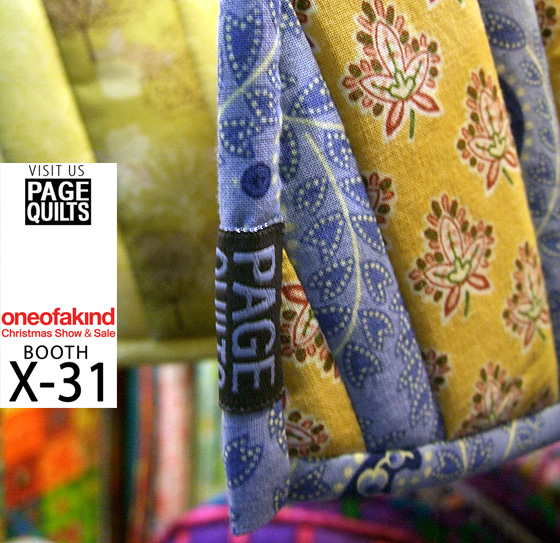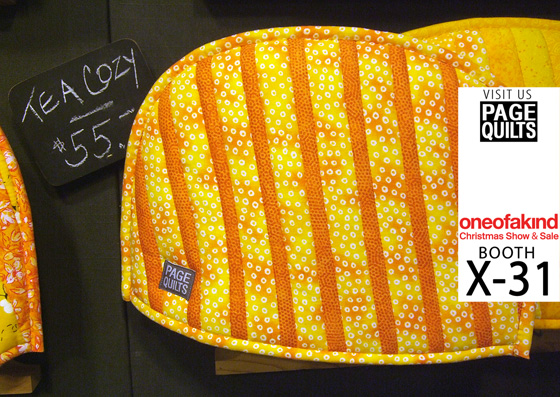 Brighten up your kitchen with a friendly little yellow tea cosy from PageQuilts. Triple insulated, will keep a fresh pot of tea hot for up to 3 hours.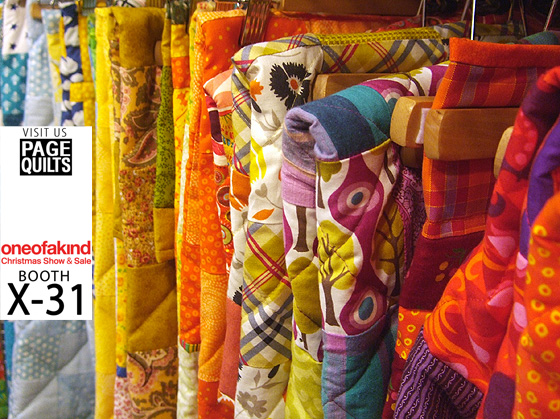 Baby Quilts of every colour to suit any child's room.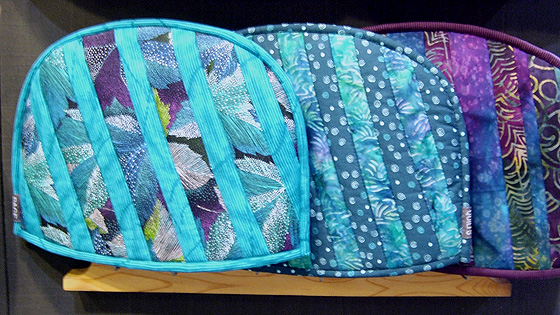 One Of A Kind Christmas Show - 2013
Thurs, November 28 to December 8th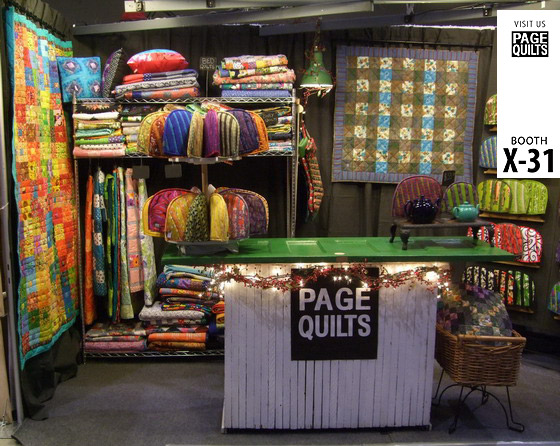 Dates + Times
Thur Nov. 28 - Dec. 8, 2012
Show Location:
Direct Energy Centre, Exhibition Place
100 Princes' Blvd, Toronto Ontario Canada

Weekdays 10am - 9pm
Saturdays 10am - 9pm
Sundays 10am - 6pm
OPEN LATE
Thurs Dec. 5th till 11pm
Booth #X-31
PageQuilts on Facebook
More Info: www.oneofakindshow.com
OoAK on FaceBook
Look for Valerie in booth X-31 at the One of a Kind Christmas Show and Sale in Toronto - November 28th to December 5th, 2013.
Taking place at the Direct Energy Center in Exhibition Place, Toronto, the One of a Kind Spring show features hundreds of talented artisans from across Canada and abroad under one roof. PageQuilts is at Booth #X-31 for the full ten days of this creative winter wonderland.
This holiday season you'll find fresh Christmas stockings , baby quilts hot off the sewing machine, certified organic cotton baby quilts, a bundle of colour quilted tea cosies to keep the heat in + wonderful wall hanging quilts of all sizes - the perfect gift to keep warm under and brighten up a room.
Be sure to stop by, feel the fabrics and marvel for a moment or two at hand made goods from Canada.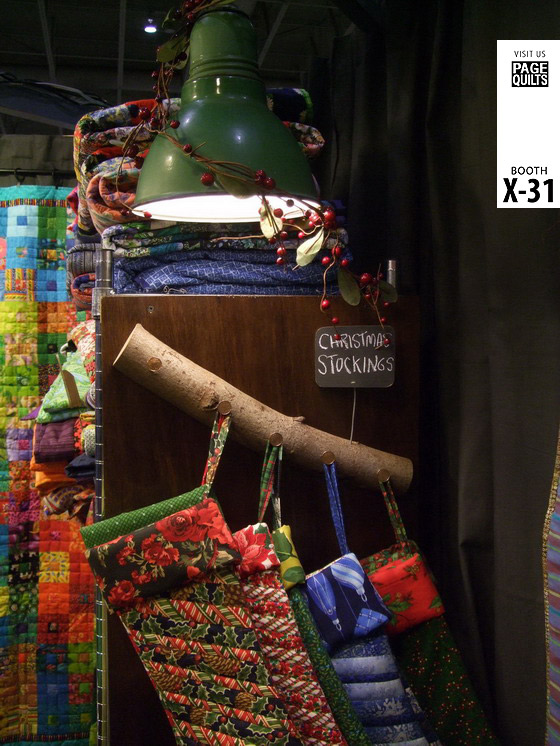 NEW! Christmas Stockings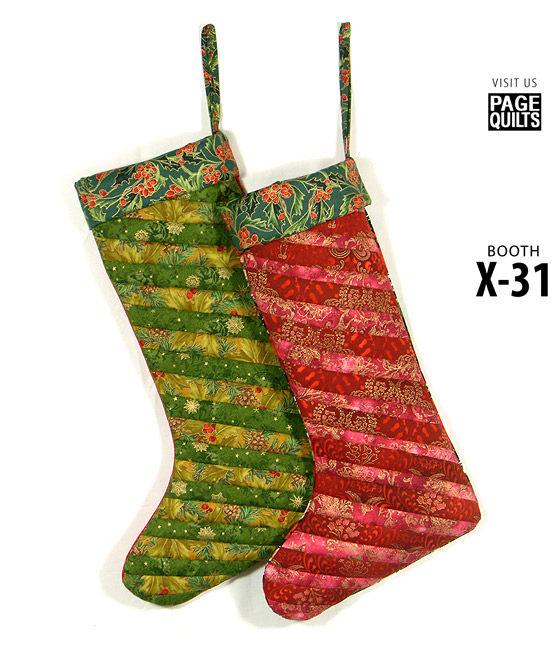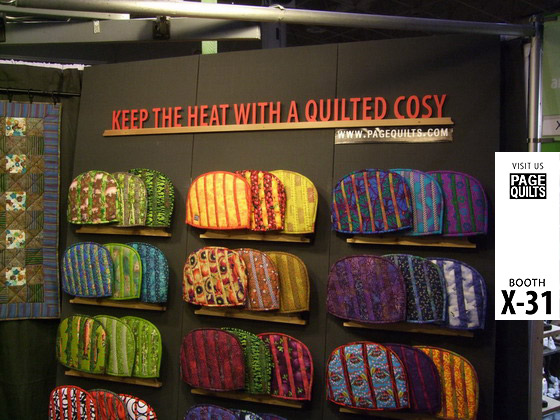 Quilted Tea Cosies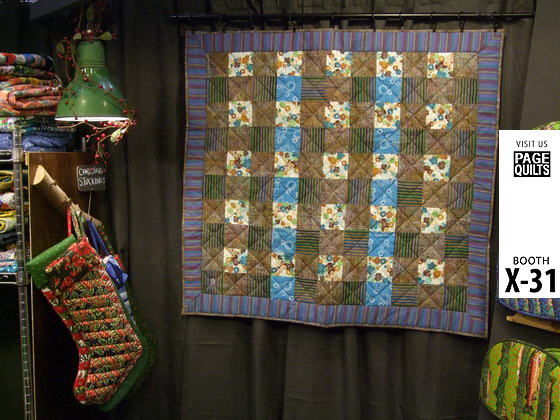 Baby Quilts and Wall Hangings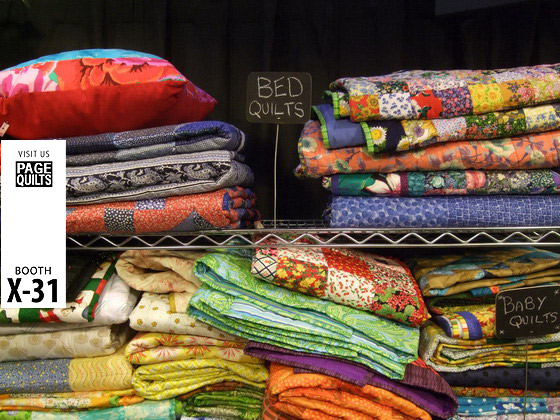 Hand Made Quilts for the bed.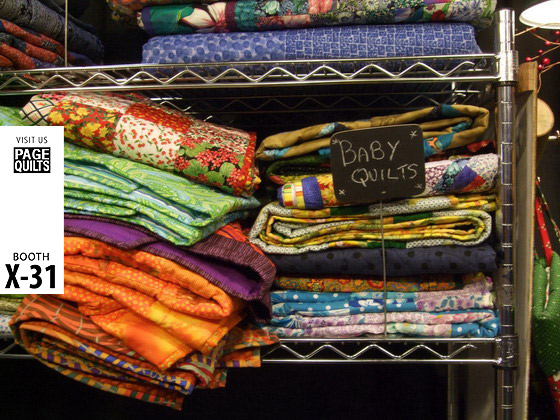 Baby Quilts made by hand are the perfect gift for that new niece or nephew.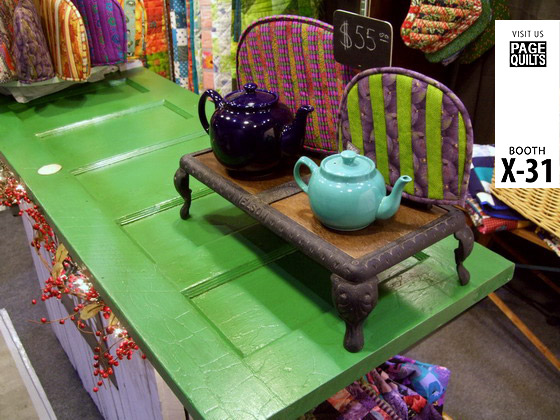 Our Quilted Tea Cosies fit a range of pot sizes and are made with two layers of insulation, they will keep a pot of tea hot for up to three hours, according to our tests.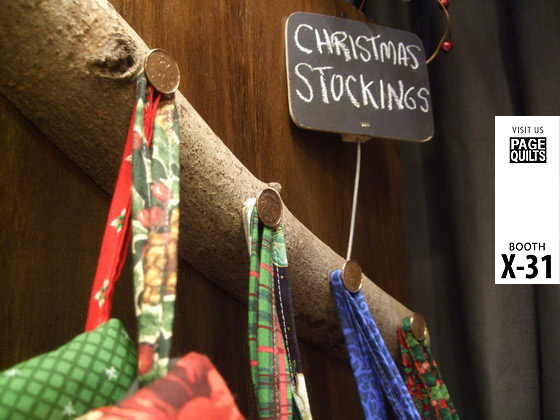 Christmas stockings are hard to find these days, we have a limited number in stock at the One Of A Kind Christmas Show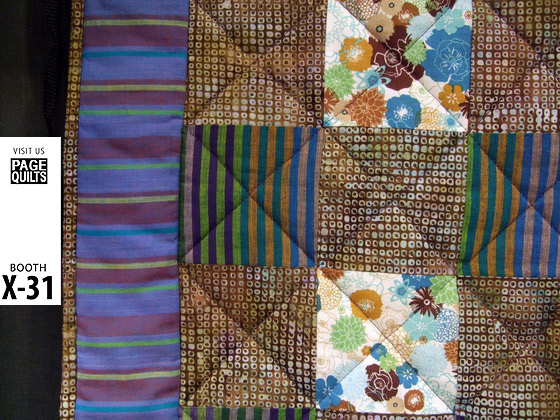 Up close look at a gorgeous baby quilt (if we do say so ourselves).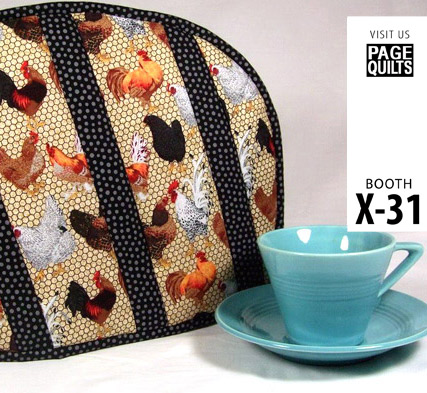 Valerie's tea cosies were something of a necessary invention. She found her pots of tea getting too cold while she sewed, so she made herself a Cosy out of scraps of fabric from a quilt project, Thinsulate insulation and lined the interior so it would stand the test of time. The basted edges are all hand finished - no one else makes tea cosies like this, but that's the reason why her's work so well.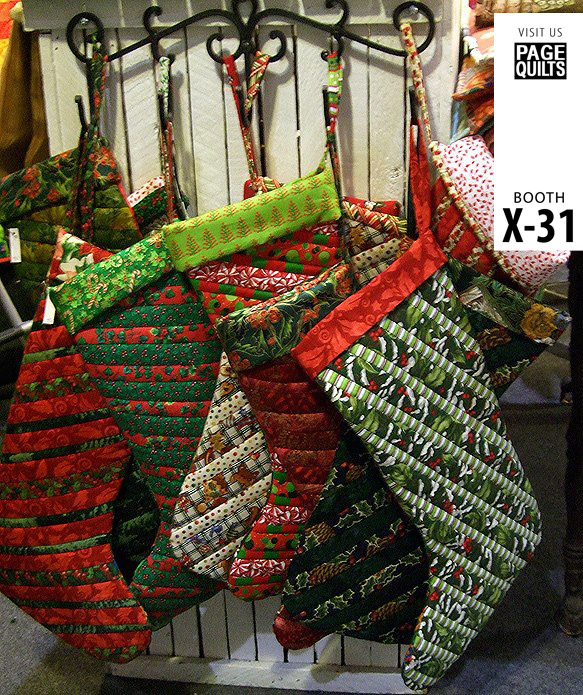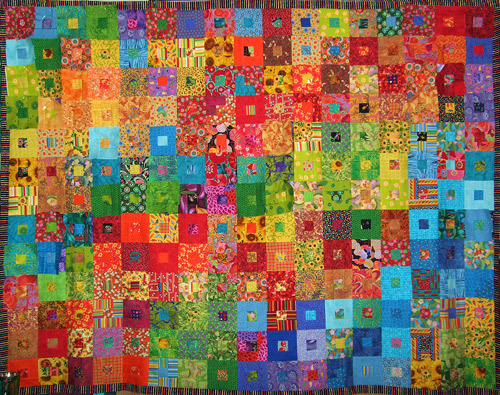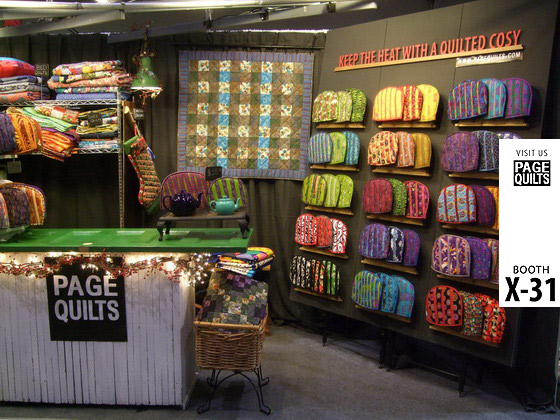 Keep the Heat With a Quilted Tea Cosy
Valerie Page has been designing and making quilts since 1972. A couple years back she branched out from the quilts she loves and made herself a tea cosy. Today her Tea Cosies are wonderfully wrapped in colourful fabrics, inside and out. Each cosy takes 12 separate steps to hand make, inside, two layers of high efficiency insulation work in tandem to keep tea steaming hot for up to 3hrs. Valerie's tea cosies mark her signature use of colour and they work, very well. These are functional kitchen accessories, made in Canada.
Valerie still makes Quilts of all sizes - little ones for that new niece or nephew, painting like wall hangings to brighten a room, and sometimes the occasional bed quilt too. Feel The Warmth Under A Quilt, it's more than just a slogan.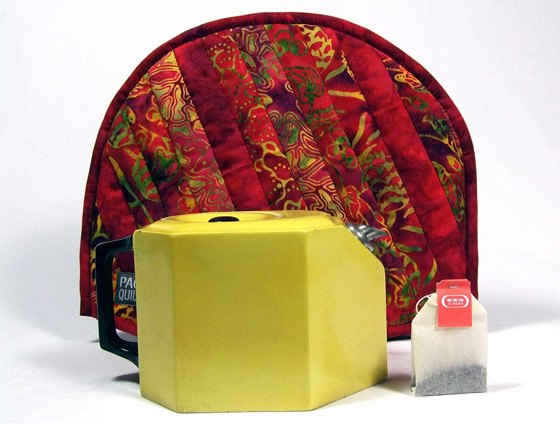 ---
---
Yes, we have Baby Quilts made from Organic Cotton! See all the new baby quilts here.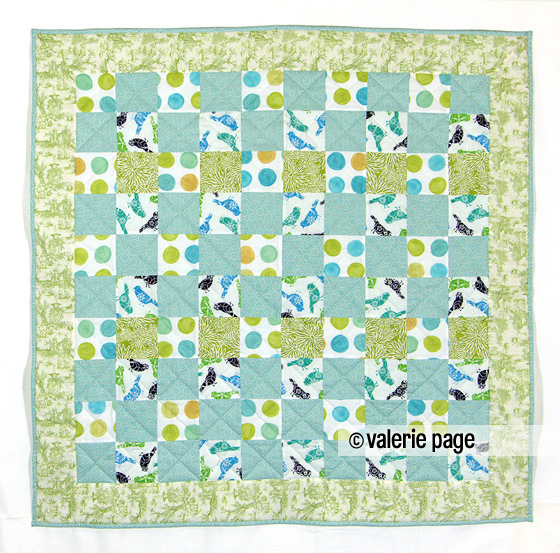 These lovely little kinder quilts are perfect for nieces or nephews...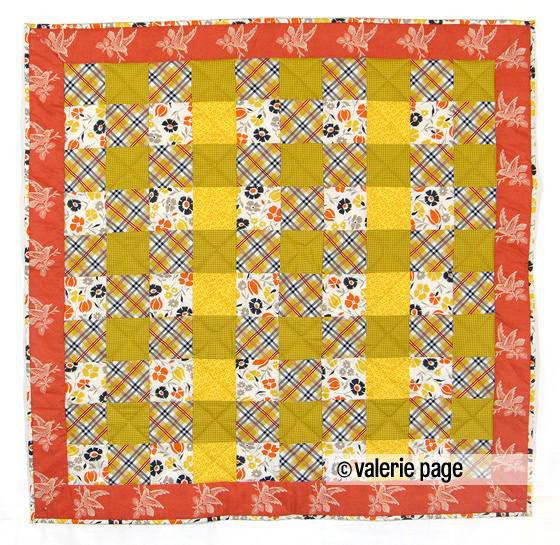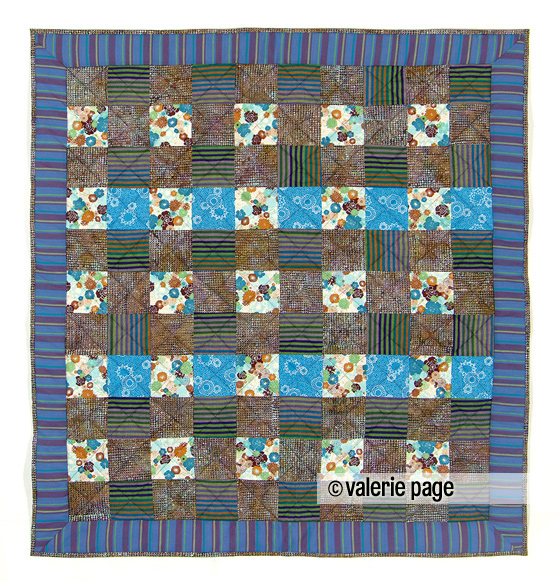 Organic Cotton Baby Quilts
Organic Cotton baby quilts are softer than soft. They are fluffy and feel lovely.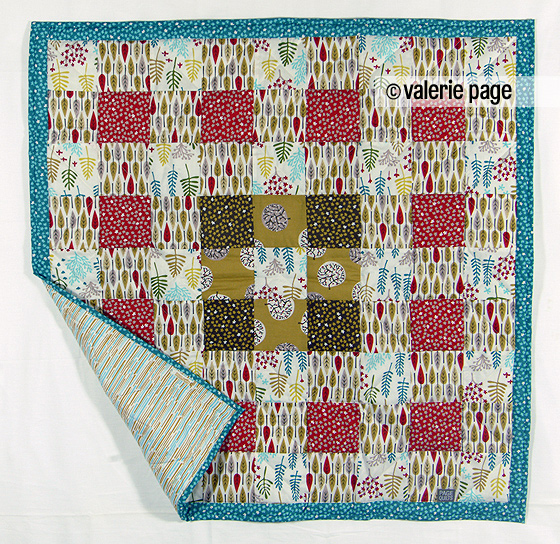 Custom Embroidery on Baby Quilts
For a small fee, Valerie can stitch in short names. For a larger fee, longer baby names.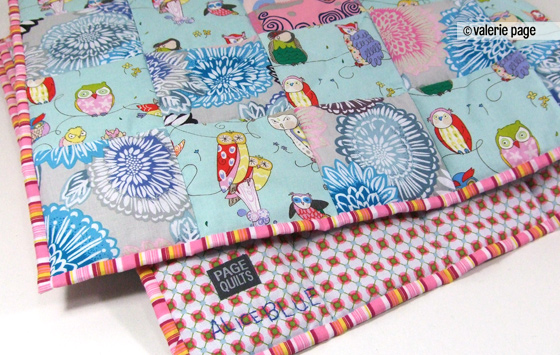 (Shown: Alice's baby quilt)
See all the newest baby quilts here.
For the latest updates you can always follow PaqeQuilts on Facebook.
---
---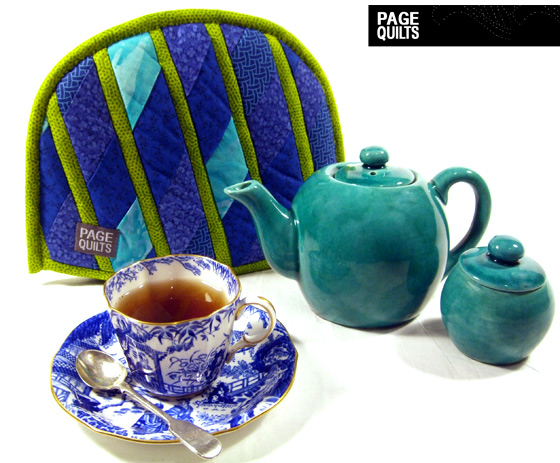 We Make Really Decent Quilted Tea Cosies
Freshly quilted and tested to ensure your best tea remains hot. PageQuilts Tea Cosies are $55 each. To order yours today contact Valerie.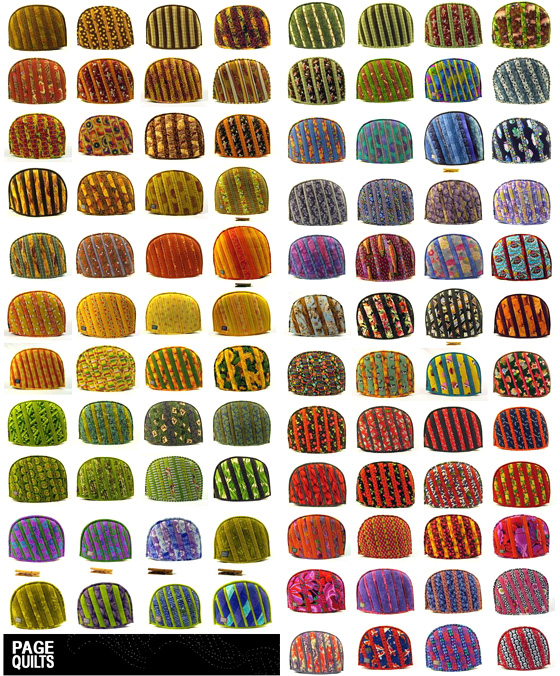 For a Scandinavian Wood Kitchen
A light and airy tea cosy for a gentleman's Scandinavian kitchen, to match beech Hans Wegner Wishbone chairs. Can we make you one? Email Valerie.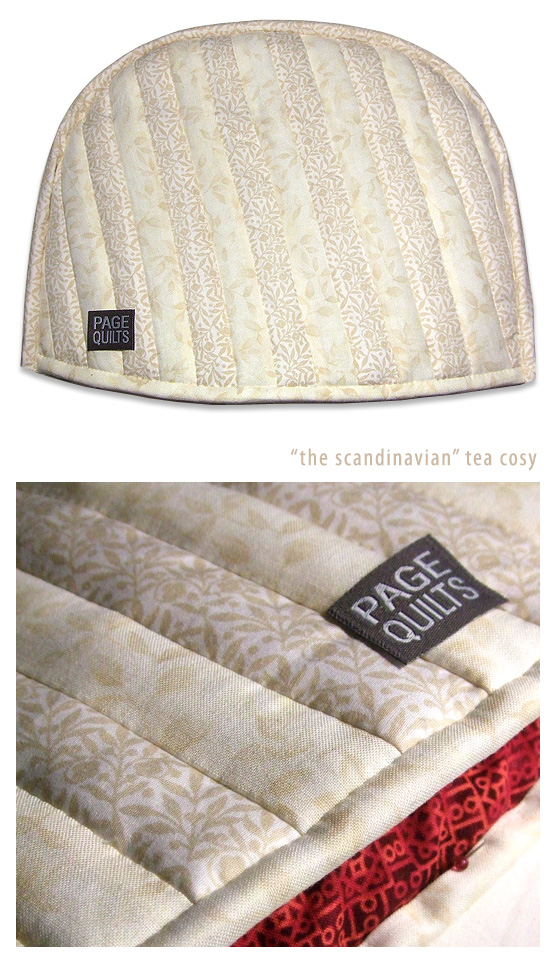 Inside? A dash of crimson of course.
Custom Quilts For Special Babies - a gift for all time
Looking for that perfect gift for a friends new baby? Valerie can sew up a custom baby quilt in colours that match mom's favourite palette, in about a week. Prices are very reasonable, so ask Valerie today.

(Shown: Bronwyn's, Norah's and Sophia's baby quilts)
Painting with Fabric & Fibonacci Spirals
Leonardo Fibonacci was an Italian mathematician from the Middle Ages. His legacy was a very peculiar number sequence where each value is the sum of its two preceding values. Valerie uses a geometric representation of the Fibonacci Spiral as the basis for this gorgeous quilt - with individual pieces of fabric based roughly on the Fibonacci dictum. Comment are welcome - Valerie.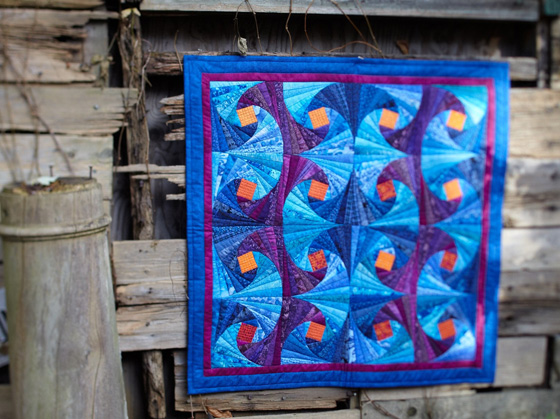 Fibonacci Vines Quilted Wall Hanging - Measures 30" x 30" / Toronto 2007 / Cotton. Machine pieced and quilted. More info >>
Feel The Warmth Under a Tea Cosy
Tired of pouring your second cup of tea only to discover that the pot has gone cold while you were reading the morning paper? Cry no more - there is a solution! Treat yourself to a PageQuilts Tea Cosy and your tepid tea days will be over. Tested and proven to keep a pot of tea steaming hot for three hours, each PageQuilts Tea Cosy is handmade in Valerie's Toronto studio. No two are alike. The cosy's secret is its insulated interior padding, sturdily anchored within a cotton cover and liner designed to withstand regular washings over many years.
Don't miss out on Tea Cosies from PageQuilts at the Spring One of a Kind this year. Cozies are available in a selection of sizes to accommodate your tea pot, whether it's a small 2-cupper, typical 6-cup or larger. Priced from $55 for the standard 6-cup size.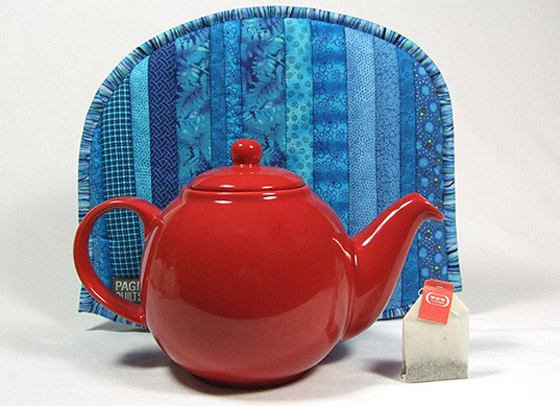 Valerie's Quilted Tea Cosies were born out of necessity. After years of trying to find nice English-style tea cosies to no avail, she took it into her own hands and created these beauty's below. Not only are they trendy and colourful, a PageQuilts tea cosy will keep a fresh pot of your best tea hot for at least 3 hours! Enjoy your tea with friends this winter, at your own pace.
For all the British ex-pats and tea drinkers of the world who have searched in vain for a decent tea cosy to envelope their favourite Brown Betty of Ceylon, your search is over. Valerie has sewn Tea Cosies in a select range of colours and quilted patterns, all guaranteed to keep 6-to-8 cup sized tea pots steaming hot.
Made by hand in the Leslieville area of Toronto from patchwork cotton fabrics/felted cotton batting and dense polyester batting lining. Machine wash in cold water, cool dryer setting. Price: $55 cotton. Buy Now.
PageQuilts Tea Cosies Keep Hot Tea Pots, Hot
Hot tea is the best tea, so we tested the special insulation used in each PageQuilts cosy before anything else. In the first test the tea pot was left uncovered, and not surprisingly the water only remained hot for a short while. In the next test under identical parameters, the tea pot was wrapped in a PageQuilts tea cosy. After three hours time under the cosy, water temperature was a nice hot 50°C (still hot enough for steam to rise from the tea cup).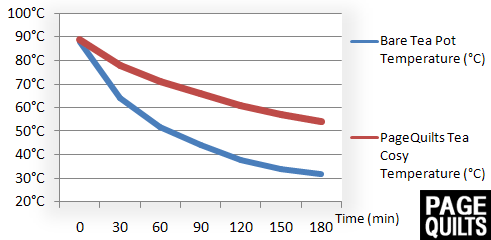 So there you have it, a bare tea pot rapidly cools off while a PageQuilts tea cosy will keep your best tea steaming hot for at least three hours! If you cherish the high quality tea you drink, you need a tea cosy.
Test Parameters - An Omega HH501DK Type-K digital thermometer and an epoxy-encapsulated thermocouple temperature sensor located at the center of a standard porcelain tea pot, boiling water was poured in right from the kettle to within an inch of the fill line.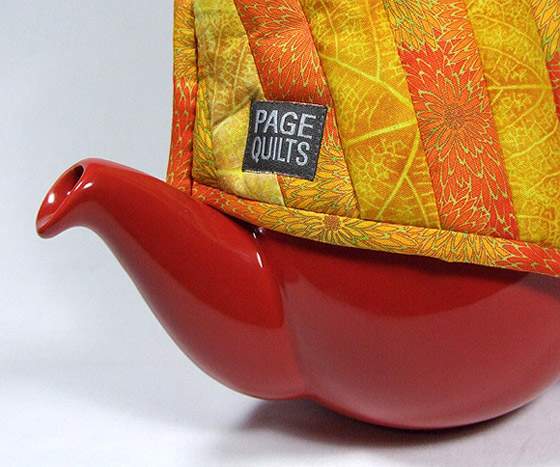 Loose Leaf Tea in Toronto?
For starters there is a wonderful new tea store on Toronto's Queen St. West called David's Tea that is certainly worth stopping by. It's a couple blocks from the legendary Red Tea Box which is on the opposite side of Bathurst. If you spend more of your time in the East end of the city you'll want to browse through the neatly stacked shelves of tea at the Tea Emporium or Pippins Tea Company (both in the Beaches). BlogTO.com has also put together a good Top 10 List for the Best Tea in Toronto .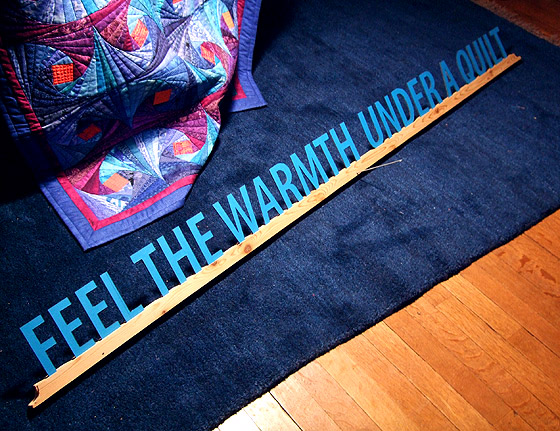 In Making a Quilt, Always Start with the Best Fabric
From start to finish, the best quilts start with the best fabric. Follow along as Valerie walks through the process of making one of her quilts. Photo's courtesy of the very talented Rob Barnes.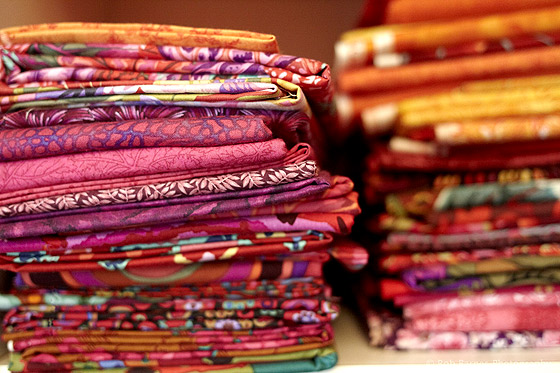 Fabric is sourced from shops in New York, Paris, Vancouver, Toronto and all points in between. Painters can mix pigments to create the hue they need, with quilting it is imperative to build up a rich palette of fabrics to sew with.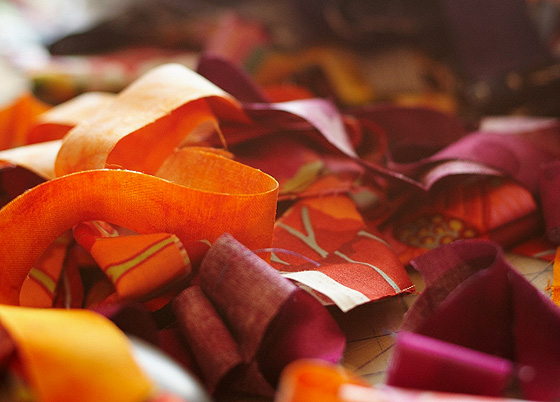 Only the artist knows which colours to choose and how to combine them... Fabric is cut into strips, squares, triangles and sometimes octagons before being combined into the final quilted item. It takes at least 10 years of practice to consistently get straight seams and square 'tops', as the combined bits of coloured fabric are called.
Add in as much as three months hand sewing for the prized, completely hand quilted pieces, and you have a quilt like no other.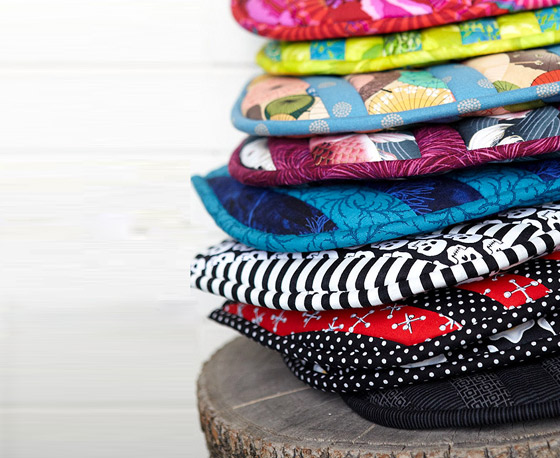 Valerie's Tea Cosies are made to similar standards with specially selected insulation to ensure they keep the tea pot nestled below, hot.
Merry Christmas and Happy New Years from Valerie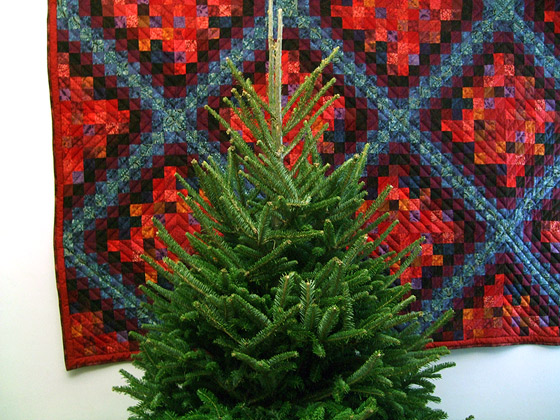 When you sit back and think about all that happens in one year, it's amazing how time flies by so quickly. When I look at the Red Magic Garden Quilt (above) I'm reminded of who I made it for; how each one of a dozen different shades of burgundy fabric were selected, and how one day a bit of blue fabric went into the pot at the last minute making this lovely Quilt what it is. You might only see a quilt made of red and blue squares; to me, and to the person upon who's wall it hangs, it speaks of much much more.
Enjoy the holidays and let the nattering around the Christmas dinner table be lighthearted and memorable!
Hand Made Quilts of a Bright Colour
As promised, a look at the new quilts from Valerie.
This pillow you see below measures 16" x 16" (cotton). Colour combination - purple/green prints. Price: $180 each.