Quilts from PageQuilts
As promised, a look at the new quilts from Valerie.
| | | | |
| --- | --- | --- | --- |
| | | | |
The Morning After - One of a Kind Spring 2010
Thanks to everyone who stopped by the PageQuilts booth at this year's Spring One of a Kind show. The morning after the show, we turned to local Leslieville hidden gem - Lady Marmalade - to recharge our batteries with delicious eggs benny, before heading back to the Quilt studio to finish up remaining special request tea cosies. ( Want a tea cosy in yellow's, blue's, maroon's or shades of black? Valerie can get you sorted, just ask. )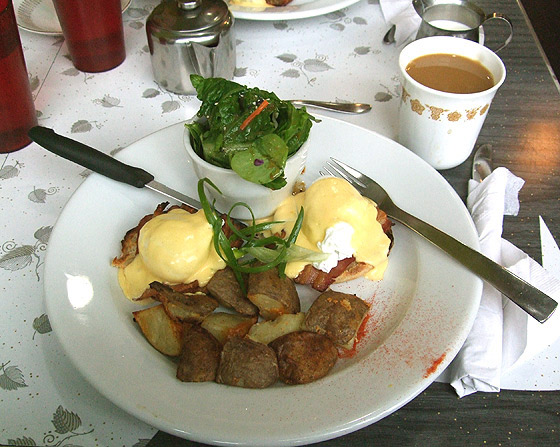 One of the highlights from this year's Spring One of a Kind was speaking with a lady who will be giving a patterned green PageQuilts tea cosy to her 101 year old mother. Her mother loves drinking a pot of tea while reading, albeit with an extra-large type face book in hand. It's a good thing then that PageQuilts Tea Cosies are tested to keep tea hot.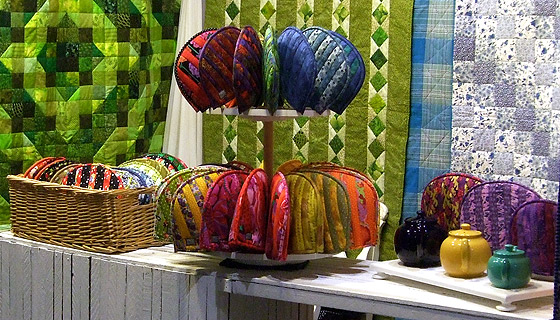 In a few days we'll have a stack of new Tea Cosies up on the website in a range of new colours and patterns - so if you missed us at One of a Kind you can still pick up a tea cosy for your bare 6-cup, 4-cup or 2-cup tea pot.
Feel The Warmth Under a Tea Cosy
Tired of pouring your second cup of tea only to discover that the pot has gone cold while you were reading the morning paper? Cry no more - there is a solution! Treat yourself to a PageQuilts Tea Cosy and your tepid tea days will be over. Tested and proven to keep a pot of tea steaming hot for three hours, each PageQuilts Tea Cosy is handmade in Valerie's Toronto studio. No two are alike. The cosy's secret is its insulated interior padding, sturdily anchored within a cotton cover and liner designed to withstand regular washings over many years.
Don't miss out on Tea Cosies from PageQuilts at the Spring One of a Kind this year. Cozies are available in a selection of sizes to accommodate your tea pot, whether it's a small 2-cupper, typical 6-cup or larger. Priced from $50 for the standard 6-cup size.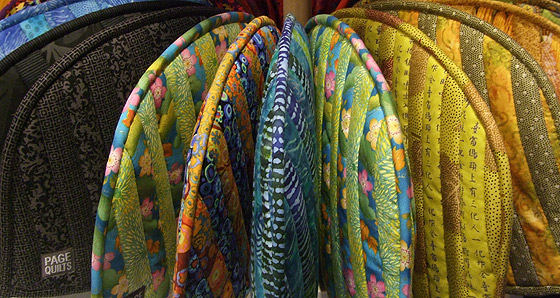 Valerie's Quilted Tea Cosies were born out of necessity. After years of trying to find nice English-style tea cosies to no avail, she took it into her own hands and created these beauty's below. Not only are they trendy and colourful, a PageQuilts tea cosy will keep a fresh pot of your best tea hot for at least 3 hours! Enjoy your tea with friends this winter, at your own pace.
For all the British ex-pats and tea drinkers of the world who have searched in vain for a decent tea cosy to envelope their favourite Brown Betty of Ceylon, your search is over. Valerie has sewn Tea Cosies in a select range of colours and quilted patterns, all guaranteed to keep 6-to-8 cup sized tea pots steaming hot.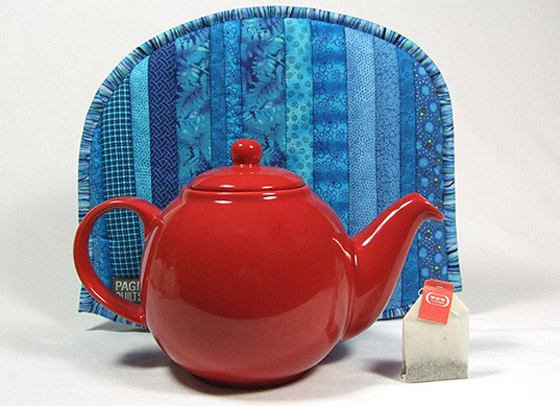 Made by hand in the Leslieville area of Toronto from patchwork cotton fabrics/felted cotton batting and dense polyester batting lining. Machine wash in cold water, cool dryer setting. Price: $50 cotton. Buy Now.
Quilts, Lovely Wall Quilts - new this spring
Quilters are an under appreciated bunch. Ask Valerie about the many hours of work, the years spent accruing needle skill, her almost magical deftness with colour and you'll be greeted with naught but a gleaming smile. Live with Quilts. Feel the Warm Under a Quilt. More than just fabric and thread, quilts can bring a couple together in such an intimate way.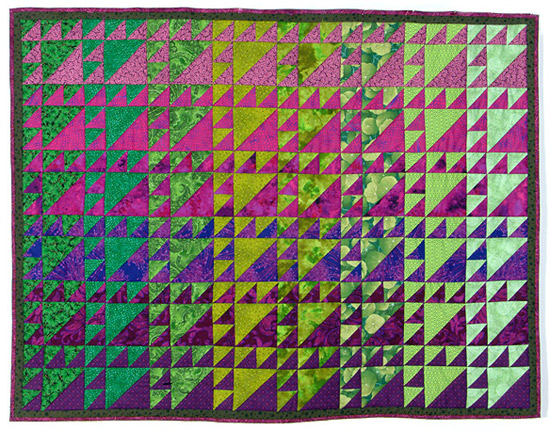 PageQuilts Tea Cosies Keep Hot Tea Pots, Hot
Hot tea is the best tea, so we tested the special insulation used in each PageQuilts cosy before anything else. In the first test the tea pot was left uncovered, and not surprisingly the water only remained hot for a short while. In the next test under identical parameters, the tea pot was wrapped in a PageQuilts tea cosy. After three hours time under the cosy, water temperature was a nice hot 50°C (still hot enough for steam to rise from the tea cup).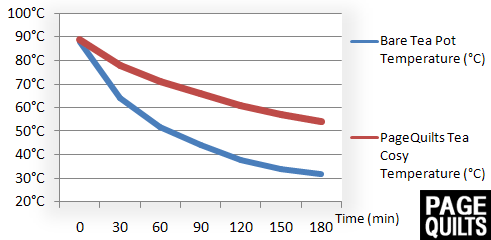 So there you have it, a bare tea pot rapidly cools off while a PageQuilts tea cosy will keep your best tea steaming hot for at least three hours! If you cherish the high quality tea you drink, you need a tea cosy.
Test Parameters - An Omega HH501DK Type-K digital thermometer and an epoxy-encapsulated thermocouple temperature sensor located at the center of a standard porcelain tea pot, boiling water was poured in right from the kettle to within an inch of the fill line.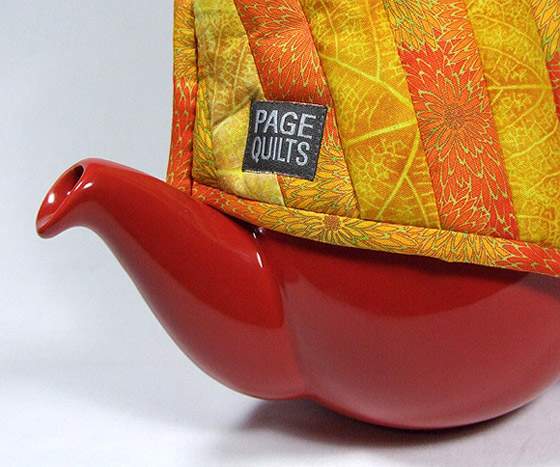 Loose Leaf Tea in Toronto?

For starters there is a wonderful new tea store on Toronto's Queen St. West called David's Tea that is certainly worth stopping by. It's a couple blocks from the legendary Red Tea Box which is on the opposite side of Bathurst. If you spend more of your time in the East end of the city you'll want to browse through the neatly stacked shelves of tea at the Tea Emporium or Pippins Tea Company (both in the Beaches). BlogTO.com has also put together a good Top 10 List for the Best Tea in Toronto .

Rita Zekas Dishes on Quilts in the Toronto Star Newspaper

Toronto Star reporter Rita Zekas recently wrote an article on Valerie Page in the Living section of the Saturday Star newspaper. "Quilting has been given serious street cred now... Page's quilts are not just for the bed but function as decorative art for wall hangings; slung over a couch or chair for a pop of colour; or as throws, perfect for snuggling under to watch TV and for chilling out at cottages or ski chalets." "I can see my quilts in lofts; in an Architectural Digest kind of home. Hanging up, they soften acoustics." Read the article here. For inquiries and comments, please contact Valerie.

Yellow Magic Garden Quilt
Measures 60" x 72", machine pieced and hand quilted.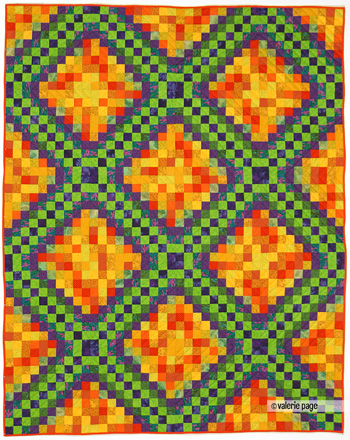 Hot and Cold Snowballs Quilt
Measures 47" x 64", machine pieced and hand quilted.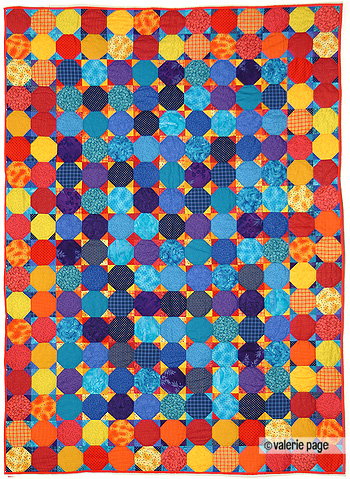 The Secret Garden Quilt
Measures 70" x 102", machine pieced and quilted.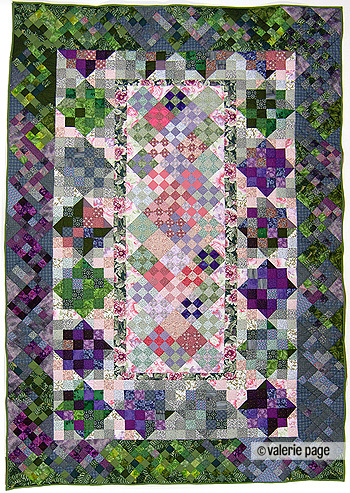 New for Spring, this one of a kind quilt by Valerie Page is called the "Secret Garden". It's large size makes it perfect for a bed, and fantastic for a featured living room wall. Once you see this quilt in person, you'll love it as much as we do. Contact Valerie today, to see this or any other quilt.
Quilted Christmas Stalkings


'Twas the night before Christmas
....
The stockings were hung
by the chimney with care,
In hopes that St. Nicholas
soon would be there!

My children cherish the Christmas stockings their grandmother made years ago. We still hang them up each holiday season, filled to the brim with clementine oranges, candy canes and golden chocolate coins!

Order your traditional Christmas stocking now for $60. Contact Valerie to have yours made.

Stockings are hand pieced in green and red stripes like Aaron's to the left; blue and silver or all red fabrics.

Each stocking is quilted, about 18" long, cuffed and fully lined. Backs are plain, not quilted. A sturdy loop big enough to fit over a doorknob or bed post makes hanging a breeze.


The Racing Stripe Pillow
The limited edition
Racing Stripe Pillow.

Entirely hand made in Toronto, this retro-modern pillow features twin stripes set on a deep cobalt background with Fleur de Lys.

17" square, zippered.
Priced $95.
The Spring One of a Kind Show has Bloomed.

It was a great One of a Kind Spring Show; PageQuilts.com was there with a lot of exciting new quilts, pillows and wall hangings for the modern home.

See what a local artist from the Leslieville area creates; quilts for babies and kiddies, the living room wall, your bed, the couch, and pillows that say "wow!"

The pillows pictured above are all super soft and fluffy, 17x17" in size and priced from $60 to $120. Hand made by Valerie in Toronto's Leslieville District. Cotton fabrics, polyester pillow form. Zippered for easy removal. Bada bing Bada buy 'em.


Spent Valentine's Day Under the Covers?
Felt the Warmth Chocolate Can't Match?
Good.

In many ways quilts are like a relationship between two people. The different bits of a quilt may be opposites, but once brought together a quilt is much more than the sum of its parts. Quilts last a lifetime, become heirlooms, wrap up newborns, and form the fabric of a family in all its many different shapes and definitions. No two quilts are alike, but the warmth they provide to those who slip under their covers is the stuff of memories. Or as one man said after giving his girlfriend one of Valerie's quilts; "We've never had such great sex as we did after I gave her that quilt..."

Walk into Winkel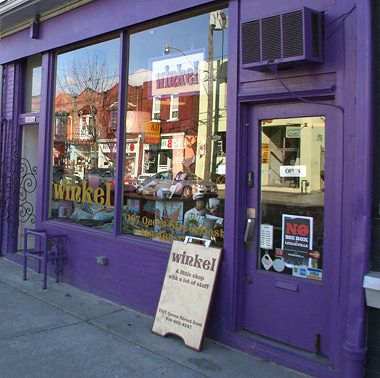 Walking into Winkel is like discovering your grandmother's attic – if your grandmother collected vintage pins from Communist Russia. Among the vintage 45s and sheet music, framed curios and loonie baskets you can now find Valerie's special 40's inspired throw pillows.

Made from McCarthy-era green fauna tablecloths that harken back to the days of greased back hair, sock hops, and cherry Coke; if you've got the style Valerie's pillows will rock your world!

Winkel is located in the heart of Leslieville, at 1107 Queen Street East. Look for the giant purple building with Godzilla attacking, in opposite direction of all the running and screaming civilians.

Blown Up. Mercury Espresso Bar - East Queen East / Leslieville

Fireworks KaBOOM! has finished its run at Mercury Espresso Bar. It ran through to January 31st 2008. Mercury is where all the cool kids in Leslieville get their caffeine, bath in good tunes from the stereo and for a time, gazed at Valerie's art between sips.

On discovering Valerie's quilts gone, one little kid cried. His mom had given him Crayons and paper to draw the quilts on the wall while she sipped Caffe Latte's. Buck up future artist - the colourful quilts from Mercury are frozen in time right here.

Mercury is open 9AM-9PM M-S and located at 915 Queen St. E., in the Leslieville district of Toronto. The ginger cookies are epic, the espresso fantastic. An ode to coffee drinkers everywhere. Coffee Cups in Polka Dots.

Valerie will be exhibiting at the One of a Kind Spring Show in March, and speaking at the Rainbow Country Quilters Guild this coming April.

Colour Makes the Days Grow Fonder
New quilts just added to PageQuilts.com. Can you find the one on display at Mercury?

Cubists Would be Proud of this Fibonacci Quilt

I love this quilt. Each individual swatch of fabric comes together to form a curve. The curves make a fibonacci-inspired pattern, and each fibonacci block is part of the entire quilt. Squint your eyes to see the forrest; a painting of colour, texture and pattern.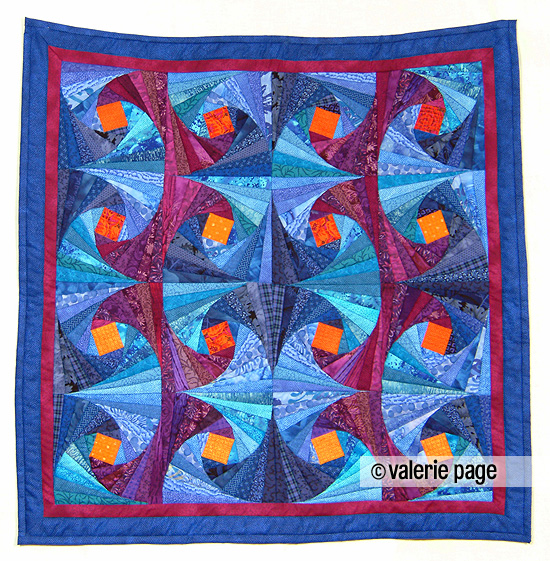 Final Day of One Of A Kind Christmas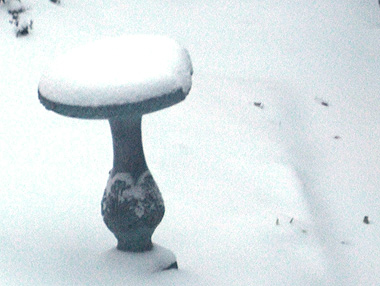 It's your last chance to bring one of Valerie's Quilts or Pillows home for the holidays... and you've got until 6PM today to make the commitment.

Blink twice at the fluffy fresh snow on the ground, pull on the toe-toasty boots, hat, mits & scarf and smile at the winter sun as you head to out grab a coffee, hop on a streetcar or drive down to the One of a Kind Show at the Direct Energy Center (directions below).

Soon it will be too late. If you delay you'll have missed out.
No quilt for you.

Today is your absolute last chance to feel the fabrics, scrutinize the stitching, fluff the pillows, test wrap a baby Quilt, and see handmade Leslieville-area-of-Toronto quilts perfect for snuggling under on a cold winters day.

Drop by booth X22, from 10AM to 6PM today, at the One of a Kind Christmas Show.

Live from the show floor at the One Of A Kind Christmas Show




Visit PageQuilts in Row X, booth No. 22

There many talented artists at this year's One of A Kind Christmas show (running till December 2) and some truly gorgeous and beautifully hand crafted treasures. My best advice is to start at one end of the floor, and zig-zag to the other before going back to the artists booth's that most resonate with you. Just mark down the Row letter and their number so you don't forget a jem!

TTC Detours. Okay, Feet St. where the Streetcars normally run adjacent to Lake Shore blvd. is under construction, so you'll have to wait for a shuttle bus at the foot of Bathurst St. that will take you to the Direct Energy Center. Or, take the King St. West Streetcar to Strachan Ave. and walk South about two blocks. This route is much quicker, less windy, and the most direct path from TTC to the One of a Kind showfloor. Here's your map, and there's a Second Cup right where the streetcar stops.

As you window shop through the rows of One of a Kind, do yourself a favour and stop and talk to the artists. Some of the stories behind why they do what they do, where they get their inspiration and how long they have been making their art are fascinating. The art, clothing and decorations hanging for sale in each booth are more than just objects, there's a personal story behind each item. That kind of connection just isn't there with commercially mass produced stuff, shipped by the freighter-full from Guangdong China.

Instead of a picture frame just being a picture frame, you might be surprised to learn the artist sourced the vintage wood from a 1900's era farm house in the middle of the Gatineau valley. Or that the picture warmly embraced by that antique wood was taken with an old Leica camera passed down from the artist's father.

There is one booth this year with incredible hand made sculptures that marry cast aluminum and exotic African woods. Two artists got together and collaborated to create these beautiful sculptures after a chance meeting.

Fascinating stories make what you'll discover at this show genuinely special and unique.

Consider Valerie's pillows. The spiral square patterned pillows are actually inspired by a mathematical formula known as a Fibonacci number. A study of naturally repeating patterns in nature during her time at OCAD, is what led her to find ways of expressing this in fabric with different shades of colour. Make no mistake, it's a very labour intensive process that takes hours to create just one small Fibonacci square. That kind of devotion to one's artistic vision is what you can only get from artists, and the result is a visually satisfying treat that you'll savour for years!

That's my take on things, what's been your favourite highlight from the show so far?

One Of A Kind Christmas Show 2007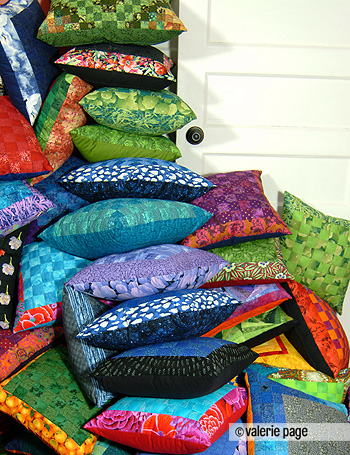 Stop by and Say Hello to Valerie at the PAGEQUILTS booth, row X, number 22 - X22. Your last chance to see quilts is happening right now, and goes until the 2nd of December at the Direct Energy Center, Exhibition Place. The One of a Kind Show runs 11AM - 9PM every day, and don't miss out on the Pagequilts mailing list either.
Highlights and Beauties from Valerie

The Great Pillow Wall - over 50 fresh pillows to put the accent in your beige monster and lonely lounger.
Wall Hangings that bring warmth to drafty dens and make your neighbour envious.
Fresh Baby Quilts - Test drive one in your stroller right then and there.
Quilt Season Begins Under the Covers.
Hop in, pull up a quilt and support a local artist from the Leslieville area of Toronto.
If you're in Toronto next week, you must visit One of a Kind and stop by and say hello. Here's a sneak peek at a handful of pillows fresh from my studio - what do you think?
- Valerie
PS. In January I'll be displaying some custom nanoQuilts at Mercury Espresso bar in the heart of Leslieville. Just think The Clash meets Louis Riel...
UNDER THE COVERS
Chilly toes, cocoa and a DVD of a roaring fireplace... Quilt Season has begun.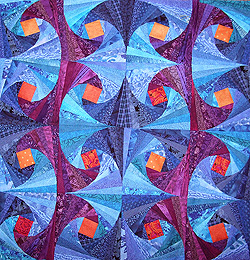 Blankets of snow, pillows of white stuff piled up by the road side, wisps of ice flying through grey streets; save yourself from the bland blahs of winter by stocking up on one of Valerie's fantastically colourful quilts before it's too late.
Hang the Purple Magic Garden Quilt on your favourite living room wall and bring warmth into your home in the middle of January. Slip under the summery cover of the Sunshine and Shadow quilt with your loved one. Enjoy the surprise nine months later. Strategically place one of Valerie's Fibonacci Pillows in the crook of a barren sofa, curl up, daydream the slush away with a stack of pulp fiction and your BFF.
Soon it will be too late, you'll have missed out.
No quilt for you.
Unless...
Your last chance to feel the fabrics, scrutinize the stitching, fluff the pillow, test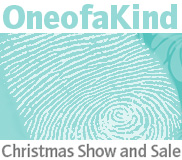 wrap a baby Quilt, or see a handmade right-in-the-Leslieville-area-of-Toronto quilt in person at the One of a Kind Christmas Show.
Over 600 fantastic artists and designers will be under one roof from Thursday Nov. 22 till Sunday Dec. 2. Visit PageQuilts exhibition Booth #X22 from 11AM till 9PM every day, and see what makes Toronto's artistic Leslieville neighborhood a legitimate designation. (sneak preview here) Valerie has lived, created and worked in the heart of Leslieville for more than 20 years. Her quilted works of art will live with you and your family for many times that.
Directions to the One of Kind Christmas Show, ticket information and show details available here. We hope to see you there!
LESLIEVILLE ARTISTICA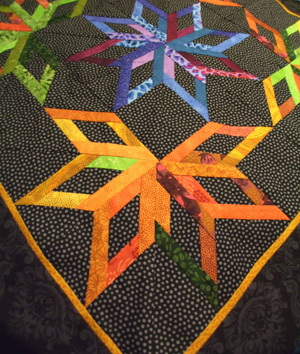 In the studio right now, in the midst of a Toronto heat wave, the colours have sub-consciously shifted towards cool blues, maroons, and turquoise. One can only hope the mercury takes the hint...
When complete, this Fibonacci inspired quilt will be about four foot square, and just one part of a series of three wall hangings. When each piece is finally ready to be hung on the wall, you will see a palate shift from dark blues and maroon, to greens and yellows, and then oranges and light blues. It should be quite fantastic!
Leslieville is enjoying the last few weeks of summer, as Fall and its wonderful orchestra of bright colours are fast approaching this creative corner of Toronto. Somehow the ephemeral call back to school always compels me to put my nose to the grindstone, get back to work, try out new ideas, sew, and create.

You might think it out of place to nominate "green" for a fall colour, but I think it works wondrously with the horizon of reds, yellows, and wispy greys that are set to blossom. Fall is all about transition, change and new colours replacing familiar shades. Green epitomizes all of this, and more! In the mean time, here is a quick glimpse of some quilts on my Leslieville workbench this very moment.
- Valerie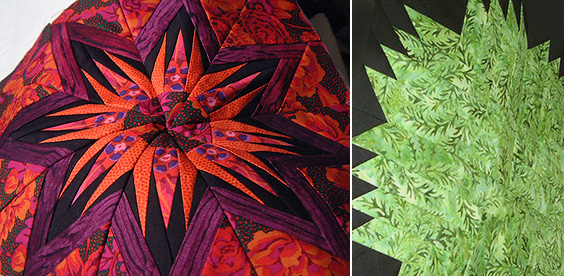 Fall is also the time when PageQuilts will be cutting the final threads on our new Baby Quilt sister site.
Soon to be parents, BFF's of new parents, and stealthy creative souls will soon be able to find all of PageQuilt's wonderful baby quilts in one place. If plans unfold true to the pencil sketches, there will be helpful pointers on how to pick out just the right quilt for that special kiddo, a broader colour selection of greens and yellows, and a few special treats I can't mention yet!
For the moment, all of Valerie's Baby Quilts can be found right here. Perfect little squares of fabric to keep baby warm in the stroller.



Summer Quilting at Haliburton School of the Arts - Grade A+

Many thanks to the wonderful women that traveled to Haliburton to participate in my Quilt Design class this summer. The whole experience at the Haliburton School of the Arts was a huge success!

"Change" was the challenge, and so many rose to the occasion; congratulations to each and every one of the students.

I can only hope that the learning experience was as satisfying as the teaching experience. I was happy to see eyes opened to new ways of choosing colour and to see sensibilities tweaked. Working together in a hum of activity and creativity was easily one of the best weeks I've shared in a while.

-Valerie
FIBONACCI SOPHISTICADO
Leonardo Fibonacci was an Italian mathematician from the Middle Ages. The legacy he left was a very peculiar number sequence where each value is the sum of its two preceding numbers.
Valerie uses a geometric representation of this as the basis for her gorgeous Fibonacci Pillows - in this case, each piece of fabric in her pattern is based on the Fibonacci dictum. Cool n'est pas? If you think this pillow looks amazing here, just imagine how fantastic it will look on your couch!?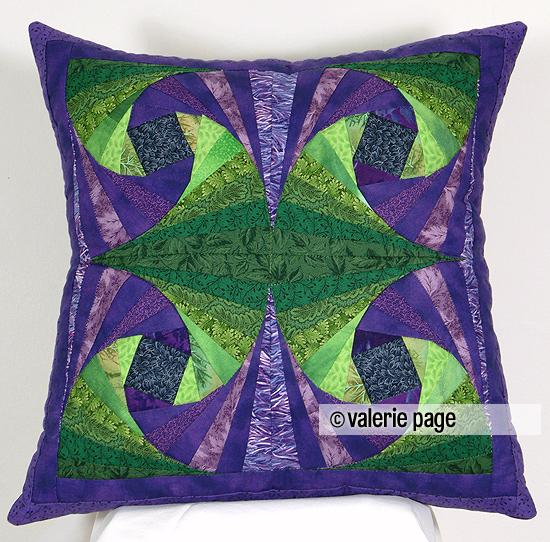 Banish the Winter Blues Away with Colour, Patterns and Quilts

As the Mercury dips below 0° during the winter months, a quilt always makes a warm statement. Colourful patterns and fabric offer comfortable respite from the chill, the colourless days, and the winter blah's. Valerie's quilts do this like no other.
Changes in Leslieville


The vibrant area of Leslieville is growing and changing, and unfortunately the much loved Piccoli store at 798 Queen St. East is soon to be reborn into another sparkling addition to the neighbourhood. Piccoli had a great run, and we will miss it. For the time being, you can see the fabulous Fibonacci pillows online, or book an appointment to stop by Valerie's studio (also in Leslieville).

After, be sure to walk a block East, past the Starbucks, and grab yourself a killer latté at Mercury Espresso Bar. Sophisticated design needs high grade Fair Trade coffee!

Trendy Baby in a Trendy Quilt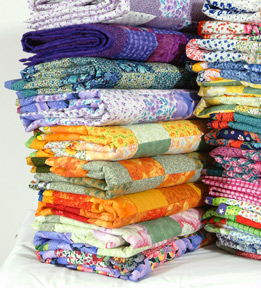 The select family of Baby Quilts by Valerie Page can be viewed by appointment at her studio in the Riverside District.
These cotton baby quilts are perfectly sized for laps, strollers, car seats, cribs, and anywhere baby travels.
Bright colours and delicate patterns blend into one another to create subtle, yet classic arrangements.
Made by hand, each Baby Quilt in the nursery collection is unique.
The limited edition collection of pillows by Valerie, is now on display right here. The last green leaf has changed its hue to a golden yellow, and that means it is officially pillow season.
Soft, cushy, warm and colourful pillows with unique patterns await you. The 2006 Pillow Collection can be viewed here.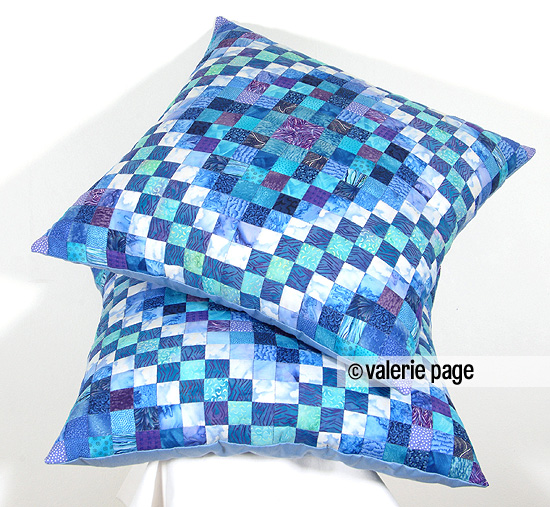 The Goose Feather Cubist Pillow in Blue.
This years' Toronto Outdoor Art Exhibition was a fantastic event, set on the lawns and around the reflecting pool of Nathan Phillips Square. Over three days, a field of creative individuals showcased some truly breathtaking art works. Now as the summer winds down, Valerie is back in the Studio working on several new pieces, a taste of which you'll find below.
Whether it's a quilt hanging in a recording studio to breath life and vibrancy into a blank wood lined room, or a condo 12 floors up, it's remarkable the effect brightly coloured landscapes of fabric can have on the feel and tone of a space. Valerie's Quilts bring a kind of warmth into these places, quieting down the hum of the city while refreshing the senses at the same time.
We invite you to look through this portfolio of selected quilts. Should you wish to purchase a piece, please contact Valerie.

Contemporary Quilts | Traditional Quilts | Baby Quilts | Pillows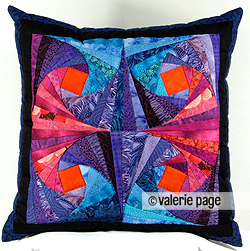 Valerie Page is an accomplished textile artist, who in 1973 first began creating quilts in Montreal, Canada.
After enrolling at the Ontario College of Art and Design (OCAD) in Toronto, Valerie began experimenting with hand made silk screened fabrics in vivid colour patterns, and resist-dyed silks that she created in the basement of the renown McCaul St. catalyst.
The fine quilted art works that would later result from a fusion of vintage fabrics, original silk screens and ethnic textiles capture Valeries' own wonderful mix of lively, vivid colours, and bend the boundaries of what many people think a quilt can be. It is this moment when we first see Valerie's art, that an unexpected pleasure is discovered which perfectly exemplifies her creative forces.
Valerie's quilts are both an artistic expression of her vision, and a subtle commentary on the changes which have occurred since many of the vintage cotton fabrics she incorporates were first spun.
Each piece is unique - from Japanese Kimono fabrics to lavish floral prints from the heyday of counter-culture, the choice of cloth and colour is as carefully considered as the hand quilting which adorns each fine quilted artwork.